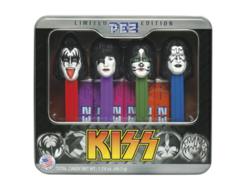 Orange, CT (PRWEB) October 06, 2012
PEZ Candy, Inc. announced that the highly anticipated PEZ KISS Gift Set has begun to ship to national retailers and will soon be available on retailer shelves.
The KISS gift set includes four dispensers, depicting the four members of the infamous band, and one six pack of candy. The Demon, The Starchild, The Catman, and The Spaceman are displayed in a reusable metal gift tin. The set will retail for approximately $12.99.
"Interest in the KISS gift tin has exceeded our expectations and we doubled our original production", stated Joe Vittoria – CEO of PEZ Candy, Inc. "There have been several imitation KISS PEZ dispensers in the market over the years and we are pleased to launch this authentic set in time for the holiday season."
About PEZ Candy, Inc.
PEZ Candy, Inc. is the pioneer of "interactive candy" that is both enjoyable to eat and fun to play with. PEZ Dispensers are a hot collectable for adults and children alike and have been a staple of American pop culture for over 50 years. To learn more, visit http://www.pez.com
If you would like more information about PEZ Candy, Inc., please call Yolanda Johnson at (203) 795-0531 x260 or email at johnson(at)pezcandyinc(dot)com.