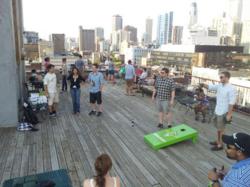 Throughout my career, I've focused on building meaningful, lasting channel partnership relationships, and I'm excited about the new opportunities at SingleHop for our partners and their clients. (Ted Tavrides, Channel Sales Manager)
Chicago, IL (PRWEB) October 05, 2012
SingleHop, LLC., a leading provider of cloud hosting, kicked off the Channel Partners program on Thursday. The program is designed specifically to help systems integrators, IT consultants, value added resellers and other IT related service providers to drive revenue and growth from the cloud.
SingleHop hosted an event at its Chicago headquarters to launch the program with over 100 leading Chicago IT professionals representing all of the major systems integrators in attendance. The event, held on the company's offices and roof deck overlooking the city's River North neighborhood, was kicked off by SingleHop CEO, Zak Boca welcoming the crowd. Guests also took advantage of an exclusive behind the scenes tour of the company's offices.
"Throughout my career, I've focused on building meaningful, lasting channel partner relationships," commented Ted Tavrides, Channel Sales Manager. "SingleHop's unique products, advanced technology and world-class customer service will appeal greatly to both channel distribution partners and their clients, by enhancing their efficiency while simultaneously reducing their costs. I'm excited about launching this Channel Sales program, and I'm also excited about having a party with the best in the business."
New Channel Partners will be able to offer SingleHop's full suite of highly scalable, on-demand infrastructure products and services to their customers. The partner will have their choice of owning the customer account and relationship, or simply acting as a conduit to connect their clients with the appropriate solution. In either case, the partner is compensated with revenue sharing.
SingleHop's Channel Parter program has several unique features:

The choice to white label or co-brand, each appealing to a different business model
Powerful web-based tools for real-time inventory monitoring + real-time quoting of solutions
Wide range of infrastructure choices on the industry's most flexible hybrid computing platform
Deeply rooted automation that reduces deployment time while simultaneously reducing errors
Complete marketing support from SingleHop including collateral and training
About SingleHop
With clients in 114 countries, three strategically positioned data centers, and over 10,000 servers online, SingleHop delivers state of the art cloud hosting (Infrastructure-as-a-Service) with industry-leading deployment speed and customer support. SingleHop was established in 2006 and makes its home in Chicago, IL. In 2011, the company was named #25 on the Inc. 500 list for the fastest growing companies in America.
Ted Tavrides - Channel Sales Manager
SingleHop | ttavrides(at)singlehop(dot)com | 773.433-1198
http://www.singlehop.com/business-partners