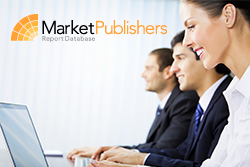 London, UK (PRWEB) October 04, 2012
In BRIC countries, non-cash transactions enhances by 9 percent year on year in 2009, while card payments reached almost 40 percent of all non-cash payments. India is the largest payment market amid BRIC countries. Non-cash transactions demonstrated a rise by over 10.2 percent per year in 2001-2009 there to surpass 2 billion.
At present, India occupies the eleventh position in the list of the world key non-cash payments markets. Debit card payments raised by almost 50 percent in 2008-2011 in the country. Credit card payments gained approximately 10 percent during the same period.
New study "Emerging Opportunities in the Indian Cards and Payments Market: Market Size, Trends and Drivers, Strategies, Products and Competitive Landscape" elaborated by Timetric has been recently published by Market Publishers Ltd.
Report Details:
Title: Emerging Opportunities in the Indian Cards and Payments Market: Market Size, Trends and Drivers, Strategies, Products and Competitive Landscape
Published: September, 2012
Pages: 123
Price: US$ 4,495.00
http://marketpublishers.com/report/finance_services/cards/emerging-opportunities-in-indian-cards-n-payments-market-market-size-trends-n-drivers-strategies-products-n-competitive-landscape.html
The report draws up an elaborate picture of the Indian cards and payment market. The report provides detailed analysis of the Indian cards and payments market, factors impacting its growth and examines the market share. The research offers overview of the industry dynamics and market strategies of market majors. Profiles of the most prominent companies and market trends forecast are also available.
Report Contents:
1 EXECUTIVE SUMMARY
2 MARKET ATTRACTIVENESS AND FUTURE PROSPECTS OF CARDS AND PAYMENTS MARKET
3 ANALYSIS OF INDIA CARDS AND PAYMENTS MARKET DRIVERS
3.1 Macroeconomic Fundamentals
3.1.1 GDP
3.1.2 Inflation
3.1.3 Bank repo rate
3.2 Infrastructure Drivers
3.2.1 Growing number of ATMs
3.2.2 POS terminals
3.2.3 Mobile and internet penetration
3.2.4 Emergence of Indian domestic card payment network: RuPay
3.3 Business Drivers
3.3.1 Online trade dynamics
3.3.2 Retail dynamics
3.3.3 Travel cards
3.3.4 Payroll cards
3.3.5 Competitive pressure
3.4 Consumer Drivers
3.4.1 Per capita annual disposable income
3.4.2 Urban vs rural population
3.4.3 Increasing population of non-resident Indians (NRIs)
3.4.4 Changing lifestyles
3.5 Card Fraud Statistics
3.5.1 By channel
3.5.2 By scheme
3.6 Regulatory Framework
3.6.1 Security regulations and guidelines
4 EMERGING CONSUMER ATTITUDES AND TRENDS
4.1 Market Segmentation and Targeting
4.1.1 Retail segment
4.1.2 Corporate customers
4.2 Consumer Preference – Price, Convenience and Services
4.2.1 Price
4.2.2 Services
4.2.3 Convenience
4.3 Online Buying Behaviour
4.4 Preferred Payment Methods
5 COMPETITIVE LANDSCAPE AND INDUSTRY DYNAMICS
5.4 Market Share Analysis by Payment Channels
5.4.1 Overview of payment channels
5.4.2 Cash
5.4.3 Checks
5.4.4 Credit transfer
5.4.5 Cards
5.4.6 Internet banking
5.4.7 Mobile payments
5.5 Debit Cards Market Share
5.5.1 By bank
5.5.2 By scheme
5.6 Prepaid Cards Market Share
5.6.1 Open-loop cards
5.6.2 Closed-loop cards
5.7 Credit Cards Market Share
5.7.1 By bank
5.7.2 By scheme
5.8 Charge Cards Market Share
5.8.1 By card type
6 STRATEGIES ADOPTED BY KEY COMPETITORS
6.4 Market Entry Strategies
6.5 Marketing/Product Strategy
6.5.1 Debit cards
6.5.2 Credit cards
6.5.3 Payroll cards
6.5.4 Travel cards
6.5.5 Multi-purpose cards
6.5.6 Remittance cards
6.5.7 Other prepaid cards
6.6 Pricing Strategies
7 MARKET SIZE AND GROWTH POTENTIAL OF PAYMENT CARD INDUSTRY
…
More new research studies by the publisher can be found at Timetric page.