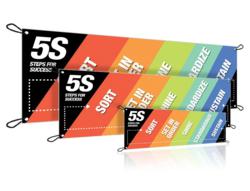 "Since we have implemented the philosophy of 5s into our company, we have witnessed an increase in productivity with better quality and reduction in costs making more profit for our organization."
Lake Oswego, OR (PRWEB) October 06, 2012
Most organizations today are searching for a competitive edge that will increase sales, reduce costs and make a business more efficient in a changing business environment. The most simple and easiest way to accomplish this is the 5s system that creates an organized and productive workplace. Businesses will not succeed if chaos and poor productivity are part of the workplace. The 5s program will change a workplace to become more organized and efficient. 5stoday.com provides a multitude of 5s products that will help any organization lower costs, create better quality products, improve safety, increase production, and help employees reach higher satisfaction.
The five pillars of 5s are sort, set in order, shine, standardize and sustain. 5stoday.com offers a banner that will promote and reinforce this message helping to keep employees safe and working efficiently. The banner is large and colorful enough to attract the attention from a distance. The banner is 2 feet by 5.25 feet and made out of a heavy duty material with metal grommets to hang easily anywhere indoor or outdoor with a lasting life of 5-7 years outdoor rating.
5stoday.com is noted as a top supplier of 5s products and promotes not only is it a system but a philosophy and culture that organizations should embrace to reveal the real power of 5s and how it can transform a business to higher levels. A safety coordinator of an organization commented, "Since we have implemented the philosophy of 5s into our company, we have witnessed an increase in productivity with better quality and reduction in costs making more profit for our organization."
Please visit http://www.5stoday.com/what-is-5s/ for products that will help kickoff a 5s program in your organization or call toll-free (866)402-4776 to get answers for all your questions that you may have.