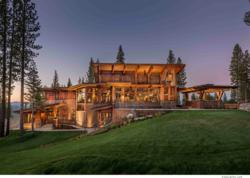 Lookout Lodge is an exciting addition to Martis Camp's long list of services and amenities that allow members to enjoy Northstar California skiing, the community and Lake Tahoe's wealth of outdoor recreational activities
Truckee, CA (PRWEB) October 04, 2012
Martis Camp, Lake Tahoe's premier luxury real estate community, announced continued strong 3rd quarter sales with a reported $52 million in real estate transactions from July to September 2012. A total of 51 Tahoe luxury properties were sold during this time period alone, bringing Martis Camp at a year-to-date total net revenue of $100 million.
Martis Camp Club also unveiled the community's newest winter amenity, Lookout Lodge, just in time for the 2012/2013 Lake Tahoe ski season. The 8,000-square-foot facility is located at the base of Lookout Mountain and offers direct ski-in/ski-out access to Northstar California. The premiere slope-side setting provides Club members with a number of services and amenities, including indoor and outdoor dining, ready room, ski valet, ski, boot and board storage, dining facilities, cozy fireside seating areas, shuttle service to/from member's homes and private, direct-lift access to the Northstar ski resort via the Martis Camp Express, the community's high-speed quad chairlift.
"We recognized the need for our Club members to have a spectacular setting for pre- and après-ski gatherings," said Mark Johnson, General Manager of Martis Camp. "Lookout Lodge is an exciting addition to Martis Camp's long list of services and amenities that allow members to enjoy Northstar California skiing, the community and Lake Tahoe's wealth of outdoor recreational activities."
Designed by Tahoe-based Walton Architecture + Engineering, an award-winning firm behind several of the luxury custom homes at Martis Camp, Lookout Lodge enables members to conveniently access Northstar California ski terrain while providing an inviting environment to prepare for their day on the slopes, enjoy breakfast, lunch and après ski dining services and spend time with friends and family. Unique features of the lodge include an outdoor fireplace with built-in bench seating, mountainside outdoor dining terrace with firepit nook and built-in sun bench, custom two-sided gas fireplace between the dining room and spacious living room, an intimate bar area, long-term ski, boot and board storage and an accessories shop.
"Lookout Lodge's unique architectural form was conceived to integrate the structure into the challenging, steep building site, while simultaneously welcoming members from both the street and mountain," said Clare Walton of Walton Architecture. "Rustic materials helped the clean modern structure blend seamlessly into the mountainous site and are carried throughout the interior and exterior detailing."
Martis Camp Club members also enjoy a vast array of additional year round amenities, including the Family Barn complex with swimming, a bowling alley, art loft, movie theater, indoor basketball court, soda fountain and outdoor performance amphitheater; an 18-hole Tom Fazio championship golf course and Dick Bailey-designed 18-hole putting park; Camp Lodge with dining venues, club spa, fitness center and vitality pools; Folk School; Lost Library; sporting fields and pavilions; and 26 miles of private trails for hiking, snowshoeing and cross-country skiing.
ABOUT MARTIS CAMP:
Martis Camp is a private gated community located between Truckee and North Lake Tahoe in the Martis Valley. Situated on 2,177 acres with sweeping topography, the land itself embraces the true essence of High Sierra living. A year round community, Martis Camp Club offers private ski access via the Martis Camp Express Lift to Northstar California™ in winter and a Tom Fazio 18 hole golf course in the summer. Martis Camp Club members enjoy a vast array of amenities including the Family Barn complex with swimming, a bowling alley, art loft, movie theater, indoor basketball court, soda fountain and outdoor performance amphitheater; an 18-hole putting park; Sporting fields and pavilions; Camp Lodge with dining venues, club spa, fitness center and vitality pools; Folk School; Lost Library; 26 miles of private trails for hiking, snowshoeing and cross-country skiing, a planned private Mountain Clubhouse at the base of Lookout Mountain, and planned tennis courts and pavilion. http://www.martiscamp.com