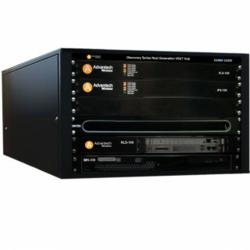 This amazing performance gain is a direct result of our pursuit of excellence.
Montreal, Canada (PRWEB) October 04, 2012
Advantech Wireless, a Canadian-based manufacturer of Satellite, RF Equipment and Microwave Systems has pushed the envelope even further by recording 155 Mbps forward link throughput performance with its new generation of Discovery Hubs and Terminals. This breaks previous performance records and secures Advantech Wireless' dominance in the VSAT Marketplace.
The Discovery Series product line-up starts with the smallest, most fully-featured, lowest-cost, fully functional hub in the world, the Discovery 100. The mid-range Discovery 200 offers support for up to 1500 terminals and, finally, the most powerful Hub in the world, the Discovery 300, provides full capacity and support for up to 10,000 simultaneously logged in terminals on a single hub. These next generation designs have been optimized for performance and reliability, with remote upgrade capabilities via softkeys (software licenses) as increased capacity is needed. Customers can purchase these products today with the confidence of knowing that they are based on Advantech Wireless' 20 years of field proven technology.
Powered by available A-SAT™ technology, the Discovery Series Hubs and terminals not only dynamically switch between SCPC and TDMA modes to optimize bandwidth, but now offer up to 155 Mbps throughput on the forward link. The Discovery series of hubs is raising the bar.
David Gelerman, CEO of Advantech Wireless, states: "This amazing performance gain is a direct result of our pursuit of excellence. Our customer set a goal of 155Mbps and in record time, it is realized. Our team of engineers are the best in the business and have built the best VSAT solution in the market."
About Advantech Wireless
Advantech Wireless, an ISO 9001: 2008 certified corporation, is shaping the world with leading-edge wireless broadband communications. Since 1988, Advantech Wireless manufactures and deploys networking solutions for broadband connectivity, broadcast solutions and backhaul requirements using satellite and terrestrial wireless communications. Products include Terrestrial Microwave Radios, Antenna Controllers, Deployable Antennas, SSPAs, Block-Up Converters, Frequency Converters, Satellite Modems and VSAT (including DVB-RCS compliant) Hubs & Terminals. For further information please visit the company's web site at: http://www.advantechwireless.com/news/.