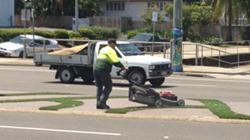 We've all been getting a great laugh out of it
London, UK (PRWEB) October 06, 2012
Residents of Townsville Australia have had a mixed response to the pictures taken earlier this week of a council crew mowing an artificial grass strip. While many have seen the funny side of things others are accusing the council of incompetence and wasting tax-payers money. The pictures were published earlier this week in the Townsville Bulletin and apparently it is not the first time that it has happened.
The gang of workers were supposed to be just cleaning the grass and removing litter. However it looks like they went a little too far in their duties. A worker at the nearby Supercheap Auto Hermit Park said the clean-up crew had been providing many laughs for their colleagues and customers.
"We've all been getting a great laugh out of it," she said.
Of course one of the major reasons why many people choose to install artificial grass is the very fact that it doesn't need to be mowed. Obviously someone forgot to inform this particular council crew about this simple fact. It also doesn't need to be watered, fertilized or weeded in case there are any other council workers out there looking for something to do.
With winter just around the corner now is the ideal time to replace a natural grass lawn before it turns into a muddy no-go zone. Artificial grass is great for pets and children and doesn't need mowing to keep it in tip-top condition. Artificialgrass4you supply a wide range of fake grass products and free samples are available from the website.
About Artificialgrass4you
Artificial Grass 4U is one of the leading suppliers of a wide range of artificial grass products in the UK. Specialising in the supply and installation of fake grass for schools, nurseries and gardens more information on their full product range is available on their website which can be found at http://www.artificialgrass4you.co.uk.