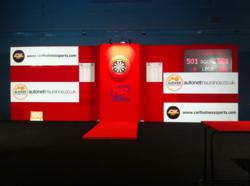 I want to personally thank all that were involved in making this event such a great success
(PRWEB UK) 5 October 2012
The eagerly awaited final of the Autonet Insurance Staffordshire Classic Premier League Darts competition arrived at Fenton Manor Sports Complex last Friday, to the delight of over 600 avid darts enthusiasts.
Autonet Insurance, a local insurance broker based in Burslem, Stoke on Trent, was the events main sponsor and did a fantastic job in providing promotional material including specially designed 180 boards for crowds to write personal messages on during the competition.
The independently owned insurance broker, working alongside specialised events promotions company, CWH Promotions completed an outstanding job with the venue and organisation behind the night, which saw the competition run without a hitch. Attention to detail was impeccable. The impressive stage had been erected to mimic the same format you would see on a Sky Sports televised tournament, which also included two giant projector screens with a number of different camera angles for the crowds to enjoy the action unfold. To add to the electric atmosphere, 'walk on' glamour girls accompanied all the players as they escorted them onto the stage to their individual entrance music, again giving the crowd an experience of the official darts premier league.
Once the action commenced, fans were certainly entertained. Matt Edgar, an up and coming semi-professional player from Daventry, Northamptonshire, provided the evening with the first major upset knocking out World Championship runner up Andy Hamilton 6-3 in his opening match. Normality was restored later in the evening seeing all three other professionals – Dave Chisnall, Phil Taylor and Ted Hankey proceed to the quarter finals.
As Matt Edgar took to the oche once again, it was clear for all to see that the Daventry lad was in tremendous form. Taking an early lead against two-time World Championship winner Ted Hankey, Matt eventually triumphed in the evenings second upset beating the 2000 and 2009 Champion 6-2 to secure his place in the final to the delight of the crowd.
Following Matt's impressive footsteps, Dave Chisnall, currently ranked at 13 in the world, went head to head with the crowds favourite, 15-time World Champion Phil 'The Power' Taylor in an eagerly awaited semi-final. Although Phil wanted to impress his home crowd, it was not to be his night and Dave 'Chizzy' Chisnall beat him with ease 6-1 to face Matt in the all-important final.
The final provided the night's longest match in a hard fought out battle between the two. Unfortunately for Matt, although he had thrown some extremely good darts throughout the competition, he marginally lost out to the man from St. Helens who was in superb form, in a nail biting final that eventually ended 5-7.
Ian Donaldson, Managing Director at Autonet Insurance, who attended the evening with family and close friends commented: "The event was a huge success. Being able to see some of the world's greatest darts players entertain such an enthusiastic crowd in our home town was an absolute pleasure. It was also nice to see Matt Edgar make it through to the final which just goes to show there is some tremendous talent on the semi-professional circuit. I want to personally thank all that were involved in making this event such a great success including all of my distribution team at Autonet Insurance as well as Carl Holness and Darren Cole at CWH Promotions."
Following on from Ian Donaldson's positive comments Darren Cole from CWH Promotions added: "We are extremely happy how well the event went. It was fantastic to see so many people attended the competition and just goes to show how much of a popular sport darts is in the UK. It's completely different to the boxing events we manage day to day but have thoroughly enjoyed it. Working alongside Ian Donaldson and Autonet Insurance was a pleasure for CWH Promotions and we look forward to working with them again on future projects."
To see more pictures from the event please visit https://www.facebook.com/AutonetInsurance