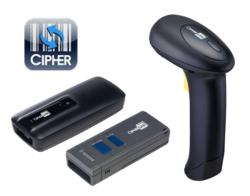 The Bluetooth option of the 1500/1600 series is supported by CipherConnect, a COM-to-key utility for intensive data collection that will seamlessly integrate with an Android phone or Tablet.
Plano, TX (PRWEB) October 05, 2012
CipherLab, a leading innovator in Automatic Identification and Data Capture (AIDC) today announced the availability of its new CipherConnect Pro APP For Android on the Google Play store. The CipherConnect Pro App gives CipherLab 1500/1600 Series Cordless Scanner users a fast and easy way to pair with their Android Devices.
CipherLab 1600 Series Cordless Barcode Scanner gives the flexibility to wirelessly transmit barcode data to smartphone or tablet. The pocket-sized form factor is an ideal cordless barcode scanner for environments where mobility is vital, including retail, office, banking, healthcare, and library use. On-the-go convenience provides the freedom to roam without the tangle of cords, allowing you to streamline business processes, maximize efficiency, and eliminate costly data entry errors.
The Bluetooth option of the 1500 series is supported by CipherConnect Pro as well. Based on the original snappy performance and ergonomic design of 1500 series, these cordless handheld scanners offer powerful reliability with efficiency for a wide range of applications.
CipherConnect Pro for Android v2.3.0 with following new features,
KEY IMPROVEMENT:

Support 7 additional languages as second keyboard option: Czech, French, German, Italian, Portuguese, Russian, Spanish
Support configurable inter-character delay setting
Support stay awake (display always-on) when CipherLab cordless scanner is connected
Support minimize keyboard option for devices with smaller screen size
Google Play Store:
(EN) http://goo.gl/eqX2s
CipherConnect Online Help:
http://connect.cipherlab.com
For more details and specifications regarding CipherLab CipherConnect and 1500/1600 cordless barcode scanners, please send an email to NASales(at)cipherlab(dot)com or contact our office at 888-300-9779 by phone.
About CipherLab
CipherLab is a global leader in the design, manufacture, and marketing of Automatic Identification and Data Capture/Collection products and systems. The company's mobile computers and scanners are integrated into the networks of some of the world's best known logistics, retail, distribution, government installations and healthcare companies, helping them run more efficiently and effectively onsite and on the road. Operating worldwide, CipherLab is headquartered in Taipei, Taiwan with offices in China, Germany and the USA, and is publicly traded on the Taiwan stock exchange (Taiwan OTC: 6160).