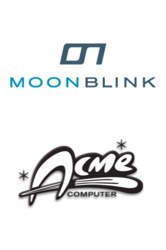 Silicon Valley, September 19, 2012 (PRWEB) October 06, 2012
Moonblink Communications, a value-added distributor delivering wireless and video surveillance solutions, today announced it has signed Acme Computer as a certified Moonblink Video Surveillance as a Service (VSaaS) Reseller Partner. The addition of Moonblink's VSaaS to their existing offerings helps Acme provide a solution for customers who need a highly secure system, but without the high equipment and upkeep costs of traditional surveillance systems.
"Acme Computer has been our go-to technology company for video surveillance projects in Northern California for a couple of years," said Daniel Redmond, Vice President of Sales and Marketing for Moonblink. "No matter how difficult or complex the assignment, Acme engineers are ready to jump on any opportunity we throw their way. Their expertise and eagerness made them the perfect partner for our new VSaaS offerings."
Moonblink's VSaaS offering bundles Moonblink's years of video surveillance planning and deployment expertise, which Acme can leverage when planning surveillance networks, with EMC's information infrastructure expertise, which gives both Acme and customers the peace of mind of knowing their critical surveillance footage is safe and secure. By utilizing Axis network surveillance cameras and encoders onsite and EMC Storage at the data center, Acme can offer the Moonblink VSaaS bundle to customers at a fraction of the standard DVR/NVR deployment costs. The solution is truly plug and play – simply connect a camera or encoder to the Internet, enter the device's serial number into the software management system, and you're up and running. Footage is stored remotely and that footage becomes fully accessible from anywhere via any Web browser.
Acme has already installed Moonblink systems throughout California and is currently working with firms in Idaho and Hawaii to deploy the enterprise-grade equipment.
"By working closely with Moonblink, we're able to deliver business-grade solutions to our clients," said Sean Garland, Acme's chief technology officer. "Moonblink works with best-of-breed manufacturers in video surveillance and wireless categories, and stays abreast of recent innovations. In the end, our clients win."
"Businesses of all sizes have an increasing need to monitor and secure their facilities," Moonblink's Redmond said. "The cost of traditional video surveillance systems and networked video recorders are often prohibitive, especially if a firm has multiple locations. VSaaS delivers a cloud-based video surveillance solution that removes the cost barrier, making video surveillance simple and affordable for businesses of any size."
There are four tiers of pricing for the Moonblink VSaaS bundle, which are based on how much data is to be stored, the resolution needed, frames per second, and the number of days footage needs to be stored. To learn more and to discuss which solution is right for you, please contact Acme at
877-630-ACME (2263).
About Acme Computer
Acme Computer is a technology services provider with offices in California and Oregon. Acme specializes in managed services, network design, video surveillance, VoIP, cloud services, and copper and fiber cabling (CA Lic #837371 and OR Lic #194982). For information, please visit Acme online at http://www.acmecomputer.com/
About Moonblink Communications
Moonblink Communications is a value-added distributor (VAD) with a targeted focus on wireless and video surveillance systems. It is our mission to provide VARs and Integrators the solutions they need to successfully deploy the best wireless systems available for their customers while providing the greatest value. With a targeted wireless technology portfolio from the industry's leading manufacturers, we provide a complete spectrum of wireless and video surveillance solutions including WiFi, WiMAX, wireless Voice over WiFi, wireless surveillance camera systems, Video Surveillance as a Service (VSaaS), license-free and licensed broadband wireless solutions. For more information, please visit: