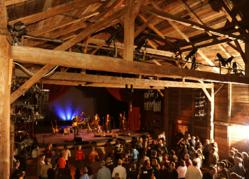 Vienna, Virginia (PRWEB) October 04, 2012
The Greencards
Wednesday, October 17 at 8 pm
$20
The Greencards
Newgrass sensations The Greencards return to The Barns at Wolf Trap stage for the first time since their last appearance in 2011. With founding members Kym Warner and Carol Young hailing from Australia, the GRAMMY-nominated foursome brings a worldly influence into the country-bluegrass genre and makes a distinct mark on the landscape of Americana music. The band has opened for musical legends such as Willie Nelson and Bob Dylan and has earned steady acclaim from musicians and critics alike. Currently based out of Nashville, Tennessee, the band is touring in support of their fifth EP, The Brick Album (2011). The recording of the disc was self-financed, largely through fan donations—a testament to the band's growing recognition and avid supporters. One such supporter, country star Buddy Miller, offers high praises of the group, saying, "The Greencards are a little island of truth and beauty in a sea of artifice and mediocrity."
Video : The Greencards – "Make It Out West"
Susan Werner
Thursday, October 18 at 8 pm
$22
Susan Werner
Singer/songwriter Susan Werner brings her honest and introspective brand of blues songs and folk tunes back to The Barns at Wolf Trap for the first time in three years. A classically trained musician, Werner has recorded an impressive 10 albums over her two-decade long career. Her latest release, 2011's Kicking the Beehive, is an 11-song exploration of blues, folk, and country music that was inspired by a solo pilgrimage through the Mississippi Delta, the heart of American blues music. Following a series of experimental releases, including an album of agnostic gospel songs (2008's The Gospel Truth), Kicking the Beehive is a return to Werner's musical roots and features appearances from all-star musicians such as Vince Gill, Keb' Mo', and Paul Franklin. With a penchant for writing heartfelt songs, Werner proudly distinguishes herself from the mainstays of pop music. Although she has been dubbed the "empress of the unexpected" by NPR, fans can expect Werner to deliver a soulfully powerful yet lively and entertaining performance.
Video: Susan Werner – "The Gospel Truth"
Battlefield Band
Friday, October 19 at 8 pm
$24
Battlefield Band
A staple of Scottish folk music, Battlefield Band returns to The Barns at Wolf Trap for what has become a highly anticipated annual gig. The band has existed in various incarnations for more than four decades, with the original group having formed in 1969. The current lineup consists of Sean O'Donnell (vocals, guitar), Alasdair White (fiddle, whistle, bazouki, Highland bagpipes, and small pipes), Mike Katz (Highland pipes, small pipes, whistles, bass guitar, and guitar), and Ewen Henderson (fiddle, piano, whistles, and vocals) who is the newest member and a highly celebrated addition. Since its formation, Battlefield Band has successfully showcased a unique combination of traditional Scottish ballads, creative covers of modern songs, and plenty of their own compositions that draw on influences from both. The band's most recent release is 2011's Line-Up, on which they continue to meld traditional Scottish tunes and instruments with more contemporary influences. They are known primarily for their raucous and electrifying concerts. The Washington Post recently expressed that "…the band's chemistry at this point is uncanny… The Best Battlefield Band in years."
Video: Battlefield Band – "A' Bhriogais Uallach" (The Pompous Trousers)
Amanda McBroom
Saturday, October 20 at 7:30 pm
$25
Amanda McBroom
Making her first appearance at The Barns at Wolf Trap since her Cabaret Series in the fall of 2009 is Broadway songstress Amanda McBroom. Most famous for her Golden Globe-winning song "The Rose," McBroom has written songs performed by myriad stars, including Bette Midler, LeAnne Rimes, Barry Manilow, Harry Belafonte, and Donny Osmond. McBroom also wrote some of the original songs featured in the Universal Studios cartoon series The Land Before Time, as well as her very own musical entitled Heartbeats. In addition to song writing, McBroom is also a talented and acclaimed performer, having sung in various Broadway productions as well as at the Golden Globes, the GRAMMY Awards, and even on The Tonight Show. She has released numerous direct-to-disc albums, which do not afford the luxury of mixing, fixing, or overdubs. These have earned McBroom praise for the purity of her vocals and the emotional depth of her lyrics.
Video: Amanda McBroom – "Music of Paris"
###
Tickets can be purchased by calling 1(877)WOLFTRAP; or online at http://www.wolftrap.org
For more information, call The Barns at Wolf Trap at (703) 938-2404 or our general information line at (703) 255-1900.