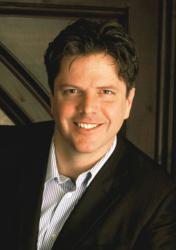 St. Louis, MO (PRWEB) October 12, 2012
The St. Louis County Library Foundation and Left Bank Books are pleased to present New York Times bestselling author Richard Paul Evans for a discussion and signing of his new holiday novel "A Winter Dream" on Tuesday, November 13, at 7:00 p.m. at Library Headquarters, 1640 S. Lindbergh Blvd.
The program is free and open to the public. Books will be available for purchase at the event from Left Bank Books.
New York Times bestselling author of the beloved classics "The Christmas Box" and "The Walk," Richard Paul Evans presents a new holiday novel about family, fate and forgiveness.
Joseph Jacobson is the twelfth of thirteen siblings, all of whom are employed by their father's successful Colorado advertising company. But underneath the success runs a poisonous undercurrent of jealousy; Joseph is his father's favorite and the focus of his brothers' envy and hatred. When the father seems ready to anoint Joseph as his heir, the brothers make their move, forcing Joseph from the company and his Denver home, severing his ties to his parents and ending his relationship with his soon-to-be fianceé. Alone and lonely, Joseph must start a new life.
Joseph joins a Chicago advertising agency where his creativity helps him advance high up in the company. He also finds hope for a lasting love with April, a kind woman with a secret. However, all secrets hold consequences, and when Joseph learns the truth about April's past, his world is again turned upside down. Finally, Joseph must confront his own difficult past in order to make his dreams for the future come true.
"A Winter Dream" is an ingenious modern retelling of the Old Testament story of Joseph and the coat of many colors by the master of the holiday novel.
Richard Paul Evans 14 novels have each appeared on the New York Times bestseller list; there are more than 13 million copies of his books in print. His books have been translated into more than 22 languages and several have been international bestsellers. He is the winner of the 1998 American Mothers Book Award, two first place Storytelling World Awards for his children's books, and the 2005 Romantic Times Best Women Novel of the Year Award. Evans received the Washington Times Humanitarian of the Century Award and the Volunteers of America National Empathy Award for his work helping abused children.
Program sites are accessible. Upon two weeks notice, accommodations will be made for persons with disabilities. Contact St. Louis County Library by phone 314-994-3300 or visit http://www.slcl.org.