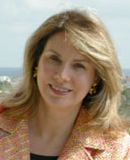 St. Louis, MO (PRWEB) October 18, 2012
The St. Louis County Library Foundation and Pudd'nHead Books are pleased to present Elaine Viets for a discussion and signing of her new novel "Murder is a Piece of Cake" on Thursday, November 15, at 7:00 p.m. at Library Headquarters, 1640 S. Lindbergh Blvd.
The program is free and open to the public. Books will be available for purchase at the event from Pudd'nHead Books.
Former St. Louis Post Dispatch columnist and the queen of humorous suspense, Elaine Viets returns to St. Louis to discuss the eighth mystery in the national bestselling Josie Marcus Mystery Shopper series.
Bride-to-be Josie Marcus can't wait to marry Ted. She has everything planned down to the last detail, including an elegant ceremony at St. Louis' historic Jewel Box, followed by a reception for friends and family. But her wedding plans are put on hold when Molly, a maniacal bridezilla who wants Ted for her own, is shot—and Josie's mother-in-law becomes the prime suspect.
Elaine Viets writes two national bestselling series, the Dead-End Job mysteries, set in South Florida, and the Josie Marcus Mystery Shopper mysteries, which take place in St. Louis. Elaine was given the key to the city of Maplewood, Josie's hometown. Elaine won the Agatha and the Anthony Awards and two Emmys for her prime-time television features. She is the host of the Dead-End Jobs Show, a half-hour talk show on Radio Ear Network, Internet radio in 148 countries.
Program sites are accessible. Upon two weeks notice, accommodations will be made for persons with disabilities. Contact St. Louis County Library by phone 314-994-3300 or visit http://www.slcl.org.