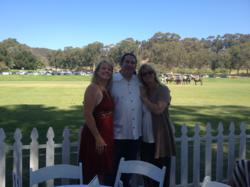 We, at Casa Nuevo Vida, are more than a recovery home. We definitely have the expertise and experience to operate as a recovery home. But more than that, we are agents for positive lifestyle changes.
Pacific Palisades, CA (PRWEB) October 06, 2012
Casa Nuevo Vida Recovery Homes, (a sober living house committed to strengthening lifestyle changes made by people recovering from addiction) emphasizes its resolve to assist those intending to turn over a new leaf. A major sponsor of the Promises Foundation 7th Annual Polo Match held on September 23, 2012 which benefits Miriam's House (a recovery home for mothers, and children seeking refuge from chaos and instability), Casa Nuevo Vida once again proves that it will go the distance to be an instrument of change in people's lives.
On a sunny day at the Polo Club in the Pacific Palisades, guests enjoyed watching polo matches, and fantastic cuisine. It was indeed the best atmosphere to be generous with donations for a good cause. And judging by the number of illustrious guests who attended this much awaited event, people who had much to give by way of influence and finances were unanimous with Casa Nuevo Vida in supporting the direction and purpose of Miriam's House.
David Marvin & Janel Faraci, owners of Casa Nuevo Vida Recovery Homes and Mercedes Cusick, co-owner of Casa Nuevo Vida Women's Recovery Home know too well that the road to recovery is rocky and the effort required to turn a person's life around is gargantuan. Mercedes states "It is hard enough to make a decision to turn your life around when you are in the throes of addiction or engulfed in a violent relationship cycle. If there are no helping hands around you, it will be much easier to slip into oblivion than climb arduously towards the light and a new life. This why I am adamant about supporting organizations who serve as helping hands, I am only too painfully aware of the number of lives that had been lost to addiction or domestic violence."
Attendees of the event were not only unanimous in their support of Casa Nuevo Vida's commitment to the creation of a circle of helping hands. They now found themselves with a burgeoning awareness of how saving a single life has more than enough impact to encourage a strong cycle of change. All agree that witnessing a totally overhauled life spurs more people undergoing addiction or unhealthy relationships to take the first, most important step: getting themselves into rehabilitation or checking themselves into recovery homes.
But the battle for lives doesn't end with one person. Unfortunately, for every person who manages to turn his or her life around, there are thousands who will take his or her place. And truthfully there are not that many helping hands to go around. And this is the owners of Casa Nuevo Vida are determined to change, "We, at Casa Nuevo Vida, are more than a recovery home. We definitely have the expertise and experience to operate as a recovery home. But more than that, we are agents for positive lifestyle changes."