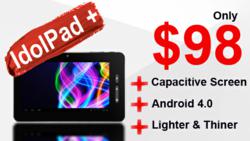 The addition of the WI Disk to the Idolian product line positions us to better serve our customers, who seek innovative mobile solutions and expect technology to support their mobile way of life
Newport Beach, California (PRWEB) October 05, 2012
Idolian Mobile, a leading manufacturer and distributor of tablet PCs and tablet accessories, today announced the launch of WI Disk, a new portable, external wireless flash drive compatible with most mobile and stationary devices including iPads and iPhones, and laptops and desktop computers, now available for purchase through Idolian.com and it's resale partners, including Amazon and Sears.com.
The Idolian WI Disk provides 32 GBs of external hard drive storage space and is equipped with a wireless USB flash drive embedded with 32GB micro SD card. The Idolian WI Disk is compatible with several devices including:

iPad
iPhone
iPod Touch
Android tablet PC
Windows devices
Smartphones and laptops
The WI Disk is compatible with the following file formats:

Audio -- mp3/wav/wma
Video -- mp4/mov/m4v
Docs -- pdf/doc/ppt/txt/xls
Idolian's WI Disk works in the following platforms:

Windows7
Windows Vista
Windows XP
Windows 2000
Mac X OS v.10.5.0
Linux v.2.6.0
Essentially, the Idolian WI Disk connects to tablet PCs, mobile phones, laptop and desktop computers, and other devices.
"The addition of the WI Disk to the Idolian product line positions us to better serve our customers, who seek innovative mobile solutions and expect technology to support their mobile way of life," said Jay Kim, founder and president of Idolian Mobile. "By adding the WI Disk, we're helping our customers gain access to their information wherever they are even if they don't have access to their tablet. The Disk is easy to store, easy to use and easy to access; sort of like every other Idolian product."
Idolian offers a full line of wholesale tablet PCs and accessories – like WI Disk -- directly to consumers and businesses. Idolian's devices are used in schools, by government agencies, businesses and by casual users. Idolian offers discounts to schools and businesses.
The Idolian WI Disk is priced at $78.
Accessories, including cases, charger cables and screen protectors, are also offered though Idolian's website, Idolian.com, and free shipping is available on all orders of $100 or more.
Each of Idolian's devices come standard with a one-year limited warranty serviced in the U.S. Idolian also offers extended warranties and protection plans for sale only on Idolian.com.
For more information about Idolian, visit http://www.idolian.com or email support(at)idolian(dot)com.
About Idolian Mobile
Founded in 2010 and headquartered in Newport Beach, California, Idolian Mobile is a supplier of tablets and tablet accessories. Idolian.com is a division of Idolian Mobile Inc., a global wholesaler and retailer of tablet personal computers. Idolian provides discounted tablet PCs to customers worldwide.