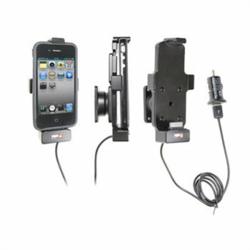 Customers have been asking for this flexibility for a while now and it makes sense... I think you will see this design more from us as we progress.
Madison, WI (PRWEB) October 05, 2012
ProClip USA, a distributor of vehicle specific mounts for mobile phones and other devices, has announced a new adjustable charging holder that is compatible with iPhone 3, 3GS, 4, 4S and the iPod Touch series.
This style holder is different than other charging holders from ProClip USA. Generally the company releases two styles of charging holders. One option connects to the vehicle's cigarette plug and the other is made for fixed installation with the use of a straight power cable that is hard wired behind the vehicle's dashboard.
For almost all devices, ProClip USA also releases holders for phones without a case and some holders for phones used with cases, skins or bumpers. These holders adjust to fit the width of the phone when used with the case.
This new adjustable holder released by ProClip USA can rapid and trickle charge the iPhone/iPod Touch by either connecting the cigarette lighter plug to a vehicle's 12V socket or connecting the USB cable to a vehicle's USB connector. The vehicle must have a USB interface for the phone to charge with the USB connection.
The new adjustable charging iPhone holder is compatible with the iPhone 3G, 3GS, 4, 4S and iPod Touch used both with and without cases. This compatibility is possible because the holder attaches to the top and bottom of the phone, but the sides of the phone are left open.
A great feature of this holder is the ability to transmit audio files from the iPhone through the USB cable. In order for this to work, this feature must be supported by the stereo in the car and by the phone. This can be easily tested by connecting the iPhone to the stereo with the USB charging cable that came with it. Charging through USB will still work even if audio file transmitting is not supported.
Don Rankin, COO of ProClip USA, says of the release, "Customers have been asking for this flexibility for a while now and it makes sense. Customers change the case they use all the time; however, if the mood strikes them to go without for the day, they can with this new holder design. I think you will see this design more from us as we progress."
It is important to note this holder is not compatible with the new iPhone 5 or the new iPod Touch due to the new Lightning Connector. ProClip has two holders currently available for the iPhone 5, an adjustable holder for use with case and a padded holder for use without case, and are working to release a Cable Attachment holder soon that will allow customers to use the Lightning cable they received with their iPhone 5. The new Lightning Connector has complicated the design process more than typical phone releases.
Apple also has new third-party certification rules that will most likely delay the launch of Lightning-compatible accessories. For ProClip customers this means a delay in any pass-through or dedicated charging holders.
About ProClip USA
ProClip USA, Inc. is the exclusive North American distributor of Brodit In-Vehicle Device Mounting Solutions and Accessories. The ProClip products are custom fit for virtually every vehicle model and handheld device available such as cell phones, smartphones, tablets, MP3 players, navigation systems, satellite radios, two-way radios and mobile computing. Their innovative, convenient, secure and easy-to-install mounting solutions provide a safer and more enjoyable driving experience.
ProClip USA company philosophy is to provide customers with a high quality product with a high level of customer service, the same level of quality they expect from the vehicles and devices they are already using. To learn more, visit http://www.proclipusa.com or email customerservice(at)proclipusa(dot)com.