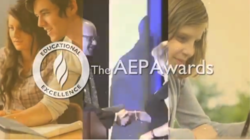 "Winning the AEP Golden Lamp is like putting a stamp of approval on this product—it's like winning an Oscar," says Carolyn Felux, Education Director for Math Solutions.
Wilmington, DE (PRWEB) October 06, 2012
Innovation has swept the educational publishing industry in recent years, but regardless of the delivery format or nature of the content itself, one thing remains constant—a focus on providing quality learning resources for teachers and students. Since 1967, the Association of Educational Publishers' (AEP) awards program has served as the preeminent vehicle for honoring excellence in the field of educational publishing.
Previous AEP Award winners have included content developers, publishers, software companies, game developers, nonprofit organizations, schools and colleges, and human service organizations. AEP's newest video on the awards, 'Honoring Excellence', describes the award categories, the types of products that are eligible, and why the awards are a major boon to the winners and finalists.
From now through January 31, 2013, entries for the 2013 AEP Awards are being accepted in four overall categories: Distinguished Achievement Awards (DAAs), honoring the best in a range of product types and resources used by teachers, parents, and students; Golden Lamp Awards, one of the most prestigious honors in the education industry, highlighting the "best of the best" products for teaching and learning each year; Innovation Awards (established in 2012), recognizing forward-thinking products that are pioneering changes in the education landscape; and the Beacon Awards, recognizing outstanding marketing of educational products.
The DAA and Golden Lamp Awards encompass these areas: Whole Curriculum Programs, Supplemental Resources, Periodicals, and Professional Development. The DAAs offer dozens of subcategories in which products are judged against other entries of similar types.
All entries undergo a rigorous three-tiered judging process:

Educator Review: Educator judges from AEP's National Educator Review Panel evaluate materials to ensure that they meet the educational needs of teachers and/or students. Judges are assigned to products based on content area and age/grade level expertise.
Professional Review: Experts in educational product development and design examine the narrowed field with a focus on overall quality.
Certification Review: Certification judges, an elite group comprised of high-level educators and industry professionals, complete an in-depth, comprehensive assessment of the final entries and determine winners.
AEP Awards Finalists and Winners earn the right to display the AEP Award Seal, nationally recognized by educators, administrators, and parents as a mark of outstanding quality and achievement. Finalists are announced when the judging process is complete in April, and winners will be announced in June at AEP's Content in Context Conference in Washington, DC. For more information on this event, visit http://www.contentincontext.org.
What does winning an AEP award mean to the recipients? "Winning the AEP Golden Lamp is like putting a stamp of approval on this product—it's like winning an Oscar," says Carolyn Felux, Education Director for Math Solutions. Math Solutions won the 2012 Golden Lamp Award in the Professional Development category for Classroom Discussions: Seeing Math Discourse in Action, Grades K-6, A Multimedia Professional Learning Resource.
The early bird entry period for the AEP Awards runs until November 16, 2012, and the regular entry period closes January 11, 2013. Late entries will be accepted until January 31, 2013. For more information or to enter, visit http://www.aepweb.org/awards/awards.html.
About AEP
The only professional organization that serves the diverse needs of the entire educational resource community, the Association of Educational Publishers (AEP) encourages and advocates for professional, quality content for teaching and learning. Founded in 1895, AEP now helps its members navigate the global realities of educational publishing in the 21st century.
AEP is at the forefront of the educational publishing industry, taking a leading role in efforts such the Learning Resource Metadata Initiative (LRMI), which is changing the way educational materials are found on the Internet; Innovation Through Inclusion, promoting industry-wide diversity; and representation of educational publishers on matters such as new legislation and funding. Through its events, publications and recognition programs, AEP works to inform and advance the industry and to define and applaud excellence in the field. For more information, please visit http://www.AEPweb.org.