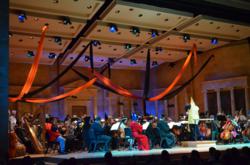 Toledo, OH (PRWEB) October 08, 2012
The Toledo Symphony Orchestra (TSO) presents its beloved Halloween Spooktacular on Sunday, October 28 at 3PM in the Peristyle with pre-concert activities beginning at 2PM in the lobby.
The gorgeous Grecian style concert hall will be filled with music from E.T., Spider Man, Star Wars and other spooky classics. The stage will be set with mood lighting, costumed musicians and decorations set the scene.
Kids of all ages are encouraged to dress up and partake in the costume parade at the end of the concert.
The concert lasts approximately 1-hour.
ProMedica is the proud sponsor of the Toledo Symphony Family Series. The Toledo School for the Arts is our partner for this performance.
Tickets are $10 and $20 or $25 for adults depending on the section. For more information, call 419-246-8000 or go on-line at http://www.toledosymphony.com.