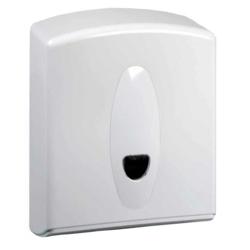 (PRWEB UK) 12 October 2012
Prestige Washrooms, a well known online store based in the UK, recently introduced an exclusive range of paper hand towel dispensers. The hand towel dispenser is a very essential item for every washroom and toilet, and Prestige Washrooms is here with the most modern range of them. The dispensers offered by Prestige Washrooms are very stylish to make sure that they suit the modern interior of the restrooms. These dispensers are very modern in technology too. They are very compact so that they can store a lot of paper hand towels in them for regular use. The mechanism for these paper hand towel dispensers is smooth and easy. All these have been carefully taken care of by the Prestige Washrooms for making the product useful.
When asked about the new range of paper towel dispensers, the executive manager of the Prestige Washrooms proudly said "just like any other product that we offer, these dispensers are best in quality too. We have made sure that they match with the modern choice of designs. The style of these dispensers is best for any washroom. We have also used advanced technology to make the entire process easier and faster for the users." This shows that Prestige Washrooms have great confidence in their product, and that is surely a great sign for the buyers. These dispensers are surely going to be better than any other available one.
The range of paper towel dispenser from Prestige Washrooms is surely going to be one of the best ones in the market. Some of the popular ones include Dolphin Plastic Paper Towel Dispenser,Dolphin Stainless Steel Maxi Paper Towel Dispenser, Dolphin Stainless Steel Mini Paper Towel Dispenser,Dolphin Plastic Standard Centre Feed Dispenser,Dolphin White Metal Paper Towel Dispenser, Dolphin Plastic Mini Centre-Feed Dispenser Dolphin Stainless Steel Standard Centre-Feed Dispenser,Dolphin Satin Stainless Steel Paper Towel Dispenser and many more. We have a full range of Towel Dispensers, Roll Control Dispensers, and Multifold Dispensers. We stock Recessed paper, Roll Control paper, as well as Multifold paper, Surface Mounted Dispensers and more.
Since all these towel dispensers are designed with latest features and best quality material, they are equipped with features that make them more functional and durable. They are made froim high quality plastic or stainless steel. There are even paper towel dispensers that are Hands free are deisgned with sensor technology.
For more information about this new range of paper hand towel dispensers, visit http://www.prestigewashrooms.co.uk/Paper-Towel-Dispensers