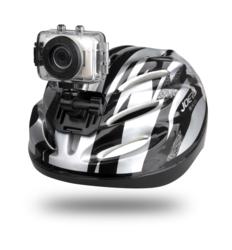 The new Blurfix HD Fun Camera is designed to affordably capture moments that until now were virtually impossible to record unless you had access to a film crew, and to provide a new and innovative alternative to the other expensive products on the market
Newport Beach, California (PRWEB) October 08, 2012
Blurfix today announced the launch of the Blurfix HD Fun Camera, a new sports camera and mountable portable camcorder that is able to capture users' performances while engaging in high intensity action sports like diving, surfing, biking, snowboarding and skydiving.
The Blurfix HD camera is the most affordable, high-quality sports camera in its class on the market as compared to other wearable cameras like GoPro.
Blurfix also stands out because it is completely waterproof for added usability in extreme situations and it is manufactured with a flat lens – again, unlike its GoPro counterparts – that helps eliminate blurriness in photos and footage that is often found when using other sport cameras used for capturing extreme action footage.
"The new Blurfix HD Fun Camera is designed to affordably capture moments that until now were virtually impossible to record unless you had access to a film crew, and to provide a new and innovative alternative to the other more expensive products on the market," said Jay Kim, president and CEO of Blurfix. "With its ease of use, the fact that it's waterproof and because it is highly functional, the Blurfix's HD camera is perfect for serving the needs of both extreme sports enthusiasts looking to showcase their achievements and casual users looking for alternative ways to capture their experiences."
The Blurfix HD Fun Camera and the camera's complete line of accessories retails for $149 at http://www.BlurFix.com. It is also available for purchase at Amazon.com and Sears.com, as well as other specialty retailers.
Accessories include a solid indestructible waterproof protective case, a Blurfix camera mount to attach the Blurfix to a helmet or other gear, suction cup mount, shield, portable DC car charger cable, helmet belt, handlebar seat post mount, helmet mount and USB cable.
The Blurfix HD Camera is currently available in both red and black colors.
The camera comes with a standard one-year limited warranty serviced in the U.S. Blurfix also offers extended warranties and protection plans for sale online through its site.
For more information about Blurfix, visit http://www.blurfix.com or email support(at)idolian(dot)com.
About Blurfix
Founded in 2012 and headquartered in Newport Beach, California, Blurfix provides mobile cameras and camcorders designed for mobile use, including in extreme sports settings. Blurfix is a division of Idolian Mobile Inc., a global wholesaler and retailer of tablet personal computers. Idolian provides discounted tablet PC s to customers worldwide.