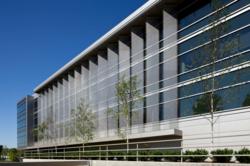 ...we were really looking for a solution that was very creative, and ... very innovative.
Cambridge, MD (PRWEB) October 05, 2012
Solar shading fins from Cambridge Architectural adorn the gateway to the University of Oregon – the Ford Alumni Center. The new alumni center, designed by TVA Architects, Inc., welcomes past and prospective students to the campus with interactive information kiosks and a sustainable design which awarded LEED Gold Certification.
Woven metal fabric fins contribute to the LEED Gold criteria by reducing glare on the building's western elevation, limiting solar heat gain and providing natural daylighting and views. "We have a major solar issue on the West side of the building," says Robert Thompson, FAIA, the Design Architect with TVA Architects, Inc. of Portland, Ore. "So we were really looking for a solution that was very creative, that was very unique, and more than anything, that was very innovative."
The Cambridge Architectural system used cable-supported fins in a Mid-Balance pattern mesh and was installed under Cambridge's scope. The project team consisted of general contractor Fortis Construction, Inc. and Haris Engineering, Inc., both of Portland, Ore. The high-tech interior was developed by Portland-based Opsis Architecture.
"The great value of this product is the contrast of materials – the very hard, very rigid materials from glass and composite steel to concrete – and the mixture of bringing in a very textural, very light, very whimsical kind of material like an architectural stainless steel mesh," says Thompson.
Cambridge Architectural provides design assistance and full-system engineering, as well as project management services. "Nobody understands a product better than those that manufacture it in terms of its capabilities," Thompson says. "Very few companies, no matter what the product, very few people work with you hand-in-hand to the level that Cambridge Architectural did with us."