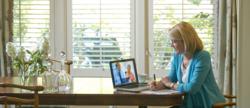 The additional information and insight I received remotely from my patient's wife fundamentally changed my treatment decisions.
Palo Alto, CA (PRWEB) October 09, 2012
ShareTheVisit™, a new company dedicated to revolutionizing communication between caregivers, patients and physicians, today announced an all-new online service designed to fix existing communications gaps between doctors, patients, family members and caregivers. Unveiled at the Health 2.0 conference in San Francisco, ShareTheVisit creates online care circles to simplify communications around complex medical matters. Based on a simplified video conferencing service, expressly designed for care circle members, ShareTheVisit enables those who want to be at the patient's side during medical exams and visits, to participate remotely when they can't be there in person.
"ShareTheVisit solves a problem that has vexed the medical community for years; how to make physician visits accessible to busy and dispersed family members and caregivers," said Elise Singer, MD, founder and chief executive of ShareTheVisit. "We've designed a solution specifically for the unique needs of care circles and physicians. It's easy, convenient, private and for the first time, enables the family, caregivers and others to participate in critical medical visits when they can't physically be in the room. This is true patient-centered medicine."
ShareTheVisit serves a vast market including parents who cannot always leave work to be at the over 80 million annual well-baby visits in the US, family members who cannot easily attend the over 30 million annual cancer treatment discussions and the vast network of elderly caregivers who amass more than 280 million medical visits per year.
"The additional information and insight I received remotely from my patient's wife fundamentally changed my treatment decisions. Not only was I able to get better clinical insight, but I was then able to outline a relatively complex clinical plan simultaneously to the patient and his wife, who would ultimately be the one to ensure it all happened," said Dr. Michael Zimmerman, physician at Temescal Creek Family Medicine and an early user of ShareTheVisit.
A Complete Healthcare Specific Service
ShareTheVisit offers a complete, healthcare specific, HIPAA compliant solution. Easy and convenient care circle creation and access to online video conferencing is augmented with scheduling aides, appointment notifications and online consent management to ensure HIPAA compliance and privacy. Specific service functions include:

Care circle creation – easy identification and enrollment of care circle members: family, physicians, guardians, patients and caregivers.
Care circle invitation and management – all self-managed by the patient or a designated care circle member.
Online consent management – facilitates consent so that patient privacy is protected and HIPAA compliant.
Appointment scheduling, confirmation and notifications – schedules and notifies care circle members of appointments, locations, times, dates and changes. Enables easy logistical coordination among far-flung care circle members.
Video conferencing launched easy and quickly – through a 'technology made easy' approach, ShareTheVisit launches the in-visit video session within seconds with a single click. Care circle participants can enter the visit through mobile devices such as iPad, iPhone or using a laptop or any computer with Internet access.
Care circle collaboration throughout the visit – Patient can be with care circle members throughout the visit, via video, to discuss treatment plans, schedules and collaborate, in real-time, on important medical and care matters.
About ShareTheVisit
ShareTheVisit is revolutionizing communication between caregivers, patients and physicians. By creating online care circles with mobile HIPAA-compliant videoconferencing, ShareTheVisit makes communications about complex medical matters easy and convenient. For the first time, family members, physicians and caregivers can easily participate in medical visits using the convenience of online and mobile video conferencing designed by ShareTheVisit. For more information, please see http://www.sharethevisit.com.
ShareTheVisit is a trademark of ShareTheVisit, Inc. All other trademarks are the property of their respective owners.