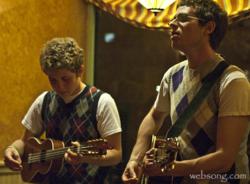 "We're excited to share this song with our fans, and with supporters of VFP. It's important that people hear this message. More and more of our veterans are coming home, and they need our support."
Martinsville, NJ (PRWEB) October 09, 2012
Alternative folk-rock duo, The Lords of Liechtenstein, released "The War To End All Wars," the first single off their upcoming album, Siberia. The track is available exclusively at Hotathon for a limited time, supporting Veterans for Peace, a national non-profit organization whose mission is to provide a community for veterans and also expose the true and human cost of war and militarism.
"We're excited to share this song with our fans, and with supporters of VFP. It's important that people hear this message. More and more of our veterans are coming home, and they need our support," said Dan Rauchwerk, lead singer for The Lords.
Mike Reid, Executive Director at VFP, discussed his experiences working with the Artist, "Working with The Lords and Hotathon has been affirming for us. When the band jumped on our idea to release the song on International Peace Day, and when I first heard the song, I knew these guys were for real. I knew they understood what we're trying to do for the veterans who sacrificed so much."
The song tells the story of several veterans – fictional, but chillingly realistic - and how they are consumed by and live with the pain of war, even years after coming home.
No doubt, ever since John Lennon said "give peace a chance," music has played an essential place in shaping the conversation about what is possible. This campaign gives "fanthropists" an opportunity to support a message of peace and salute the brave men and women who defend our freedom.
For the first time in a Hotathon campaign, purchasers of the studio recording will also receive an exclusive video of a live performance of the song.
The song will be for sale in the Hotathon through late October 2012 with a minimum of 80% of sales going to Veterans for Peace. Afterward the song will be available on the album Siberia by The Lords of Liechtenstein.
Just by coming to Hotathon, enjoying the song, spreading the word and purchasing the song, everyone can make a difference and support Veterans for Peace and its mission.
About Hotathon:
For Artists, Hotathon is an online retail and promotional platform. For non-profit organizations, Hotathon is a commercial co-venture. For music fans and supporters of non-profits, Hotathon offers a unique experience to discover and share what matters most. For more information visit http://www.hotathon.com or call 917-922-5238.
About The Lords of Liechtenstein:
Acoustic-rock duo The Lords of Liechtenstein is comprised of two brothers, Dan (guitar/banjo/vocals) and Noah (ukulele/piano/percussion/vocals) Rauchwerk. Together, Dan and Noah write songs in an acoustic-rock tradition, incorporating elements of folk, reggae, and funk. The Lords' simple yet catchy melodies draw an audience into accessible lyrics that inspire with powerful social and emotional commentary. With or without amplification, the brothers put on energy-packed live shows and occasionally kick each other onstage in a peaceful sort of way. For more information contact: lordsnj@gmail.com
About Veterans for Peace:
We, having dutifully served our nation, do hereby affirm our greater responsibility to serve the cause of world peace. To this end we will work, with others: to increase public awareness of the costs of war; to restrain our government from intervening, overtly and covertly, in the internal affairs of other nations; to end the arms race and to reduce and eventually eliminate nuclear weapons; to seek justice for veterans and victims of war and to abolish war as an instrument of national policy. To achieve these goals, members of Veterans For Peace pledge to use non-violent means and to maintain an organization that is both democratic and open with the understanding that all members are trusted to act in the best interests of the group for the larger purpose of world peace.
For more information visit:vfp@veteransforpeace.org