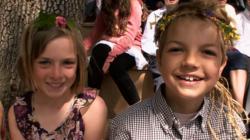 "Brought tears to my eyes!!! Great film!" amberlq (Youtube)
San Francisco Bay Area, California (PRWEB) October 10, 2012
Bucking the economic downturn, Marin Waldorf School saw a 10% increase in enrollment and a 26% increase in the number of donors this past year after the posting of a parent-made video on Youtube. The school's annual fund has also reached its all-time high.
The video, "Why Waldorf?" drew over 40,000 viewers after being posted on Youtube, becoming an overnight hit around the world. It has gone on to win a 2012 Telly Award, a 2012 Golden Cine Award, and featured in this year's Santa Rosa Film Festival.
"A truly beautiful and unique film."
-Kim John Payne, M.ED. Author, "Simplicity Parenting"
View Film- http://www.youtube.com/watch?v=tZmAX5adCl0&feature=plcp
Enrollment at MWS went from 184 students in 2011 to 201 this year, up 10% and up 25% from its low in 2010. The school has added a third kindergarten and is hosting a new high school on their campus.
The San Francisco Bay Area has the largest concentration of Waldorf schools in the world, with four accredited Waldorf schools and a number of "Waldorf-inspired" private and charter schools. In addition, there are two Waldorf teacher training centers in the Bay area. Last year, a story in the New York Times on the Waldorf School of the Peninsula sparked national media attention on Waldorf's philosophy to limit computers and media influence in the classrooms.
About: Marin Waldorf School is proud to be one of the oldest, fully-accredited Waldorf schools in the country. Located in the Marinwood neighborhood of San Rafael, CA, Marin Waldorf School seeks to prepare graduates to thrive in an ever-changing world and to participate as thoughtful, resourceful, and confident young men and women. MWS's mission is to provide an education that will prepare children to fulfill their highest potential, energized by a life-long joy for learning.
Contact: Marin Waldorf School Katrina Ferreyra, Development Director
755 Idylberry Road (415) 479.8190, ext 194
San Rafael, CA 94903 katrinaferreyra@marinwaldorf.org
Phone: (415) 479.8190
Fax: (415) 479.9921
http://www.marinwaldorf.org/