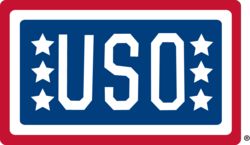 Kangaroo Express, its team and store guests vowed to do more for troops and families in 2012 than they did in 2011 and once again, they delivered, said Katie Whitlow, USO Director of Corporate Alliances.
Raleigh, NC (PRWEB) October 05, 2012
At a celebratory event to mark the end of its 2012 Salute Our Troops summer campaign to raise funds for military support organizations, Kangaroo Express presented the USO with a check for more than $1M Wednesday.
The grand finale event was held at the PNC arena in Raleigh, NC. Hundreds of people were there to help celebrate the success of the summer campaign and recognize those who went above and beyond to raise funds for America's troops and their families.
From July 4 through Labor Day Kangaroo Express, its team and store guests raised over $3M- nearly a million dollars more than was raised in the inaugural 2011 campaign. District Manager Nancy Shaikh was one of 13 Kangaroo Express employees credited with helping to make this year's campaign such a big success.
"Most of her stores are on East Carolina University campus, so most of her traffic was gone for the summer," said John Fisher, Senior Vice President of Marketing, Merchandising and Restaurant Operations for Kangaroo Express. "But Nancy wanted so badly to make sure her stores did their part, when the convoy came through, she and her entire team literally stood out in the street and waived people into the store. They raised $2,000 that day for Salute Our Troops. We couldn't have done it without people like Nancy. She is Kangaroo Express. She is Salute Our Troops."
"Kangaroo Express, its team and store guests vowed to do more for troops and families in 2012 than they did in 2011 and once again, they delivered," said Katie Whitlow, USO Director of Corporate Alliances. "Their generous donation will help support the USO programs and services our troops and their families have told us they need most: comforts of home, free phone calls to their loved ones, more opportunities to read bedtime stories to their children and critical support for wounded, ill and injured troops and their caregivers and families of the fallen. Partners like Kangaroo Express continue to help us make a difference in the lives of our nation's troops and families and for that we could not be more thankful."
USO staff and volunteers were also recognized for their hard work and dedication during the campaign- attending and planning Salute Our Troops rallies and personally rooting on Kangaroo Express employees in their community. During the two month campaign, USO of Georgia volunteers Jack and Pat Solomon drove 3,000 miles, visiting all 132 Kangaroo Express Store in the state.
"Every dollar we raise for the USO is like giving one of our troops a hug, delivering a firm handshake, or giving someone far from home a hot meal during the holidays," said Jack Solomon of Sandy Springs, GA. "Fundraising gives us just as much joy, because we know first hand where that money goes."
The Salute Our Troops campaign involved more than 1,500 Kangaroo Express locations across 13 states. It is one of the largest fundraising initiatives the USO has participated in, in its more than 70 year history. To thank Kangaroo Express, its team and guest for helping to lift the spirits of troops and families, the USO presented officials with a U.S. flag from Afghanistan, signed by troops at Camp Leatherneck and Kandahar.
# # #
About the USO
The USO (United Service Organizations) lifts the spirits of America's troops and their families millions of times each year at hundreds of places worldwide. We provide a touch of home through centers at airports and military bases in the U.S. and abroad, top quality entertainment and innovative programs and services. We also provide critical support to those who need us most, including forward-deployed troops, military families, wounded warriors and their families and the families of the fallen.
The USO is a private, nonprofit organization, not a government agency. All of our programs and services are made possible by the American people, support of our corporate partners and the dedication of our volunteers and staff. In addition to individual donors and corporate sponsors, the USO is supported by President's Circle Partners: American Airlines, AT&T, Clear Channel, The Coca-Cola Company, jcpenney, Kangaroo Express, Kroger, Lowe's, Northrop Grumman Corporation, Procter & Gamble, and TriWest Healthcare Alliance and Worldwide Strategic Partners: BAE Systems, The Boeing Company, Lockheed Martin, Microsoft Corporation and TKS Telepost Kabel-Service Kaiserslautern GmbH & Co. KG. We are also supported through the United Way and Combined Federal Campaign (CFC-11381). To join us in this patriotic mission, and to learn more about the USO, please visit uso.org.
About The Pantry and Kangaroo Express
Headquartered in Cary, North Carolina, The Pantry, Inc. is the leading independently operated convenience store chain in the southeastern United States and one of the largest independently operated convenience store chains in the country. As of August 6, 2012, the Company operated 1,589 stores in thirteen states under select banners, including Kangaroo Express®, its primary operating banner. The Pantry's stores offer a broad selection of merchandise, as well as fuel and other ancillary services designed to appeal to the convenience needs of its customers. For more information, visit http://www.kangarooexpress.com.
With more than half of our stores located within 25 miles of a military installation, Kangaroo Express has supported the military and their families for many years, including raising $3.17 million for military support organizations, including the USO, as part of its second summer-long "Salute Our Troops®" fundraising campaign.