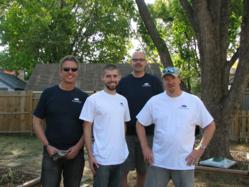 I am blessed to work for a corporation that supports those who defend our freedom.
St. Paul, MN (PRWEB) October 24, 2012
Foundation Financial Group employees at its St. Paul retail branch, located at 4B Signal Hills Center, participated in the Beyond the Yellow Ribbon and Minnesota Military Family Foundation programs that benefited a local St. Paul military family. On September 29th, the FFG team volunteered their time in support and also made a monetary donation to the cause.
Beyond the Yellow Ribbon is a comprehensive program that creates awareness for the purpose of connecting Service members and their families with community support, training, services and resources.
The Minnesota Military Family Foundation (MMFF) is a community-supported fund with an all-volunteer board with zero overhead that was founded in November of 2004. The MMFF seeks funds to financially support deployed Minnesota military personnel, their spouses, and children with grants during times of extraordinary financial hardship. Contributions are made by people who understand that there are many sacrifices that military families make and want to help soften the extraordinary financial hardships that may occur when a family member is deployed by providing a financial safety net. The men and women that serve in our military have given up their freedom to protect the freedom of American citizens and to proactively pursue people who have attacked or plan to attack America and Americans. Contributing to the Minnesota Military Family Foundation is how many fellow citizens show their thanks and support to our deployed troops and their families. The Minnesota Military Family Foundation distributes money through grants and loans to Minnesota military families of deployed soldiers that need a little help.
"I can't fully express the pride I feel for being a part of this wonderful cause." said Foundation Financial Group Event Coordinator, Sara Irvine. "I am blessed to work for a corporation that supports those who defend our freedom."
To learn more about Beyond the Yellow Ribbon, visit http://www.beyondtheyellowribbon.org/.
To learn more about the MMFF, visit http://www.minnesotamilitaryfamilyfoundation.org/.
About Foundation Financial Group
Foundation Financial Group is a multibillion dollar financial services corporation. FFG offers its customers Best in Class service through its Insurance, Retirement, Mortgage, and Tax Services. Named one of the fastest growing financial companies in the country by INC magazine, FFG has continued to grow its nationwide presence with over 100,000 new customers per year in 39 states. In addition to the value that Foundation Financial provides every customer, it is also dedicated to its communities and the people who live in them. Through a vast array of philanthropic endeavors the company not only provides significant monetary donations but also fosters a workforce environment that encourages all team members to personally make a difference. Foundation Financial is committed to its strong focus on customer service and community investment as it continues to grow and compete with the largest financial institutions in the world.
Foundation Financial Group reviews all public relations inquiries. For additional information, interview and image requests, contact the Foundation Financial Group Public Relations team at 866-659-3200.