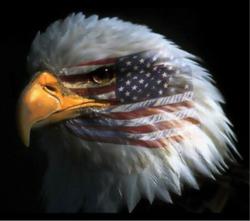 "A little Rebellion now and then is a good medicine for a Healthy Government" - Thomas Jefferson
Sioux Falls, South Dakota (PRWEB) October 09, 2012
The United Sovereignty Alliance claims that all three branches of the federal government have violated constitutional law over the last two or more decades by passing and implementing legislation that contradicts Article One, Section Seven, Clause Two of the United States Constitution. A constitutional convention of governors must be convened by a vote of the people to correct these violations that harm the first amendment rights of all Americans.
The alliance points to the federal debt, which increased by $1.3 trillion this past fiscal year, placing an additional debt of $11,000 on every American citizen.
The alliance feels that the people of this great nation, by the use of the 10th amendment, have the right and capability through the voting process to place strict regulations and limitations on the expansive federal government. They are urging the American people to control the way the federal government uses tax money as follows:
1. Restrict the federal government's borrowing power in the balanced budget amendment to $500 billion per fiscal year from the current unlimited.
2. Restrict the federal government's non-military payroll to a maximum of 1.85 million, reducing salaries and benefits for non-front-line security employees.
3. Repeal the 17th amendment, returning self-governing power to the states, including but not limited to state control of education as well as energy/mineral resources.
4. Liquidate or transfer 50% of all non-national park land holdings as well as opening 10% of Arctic National Wildlife Refuge (A.N.W.R.) for oil and gas production to the states.
5. Restrict the President's authority in by-passing the legislative procedure with mandates using executive power, including his ability of using taxpayer funds as a venture capitalist.
6. Instruct a constitutional convention of governors to fine and penalize people who not only violated constitutional law, but also federal law while serving the citizens of the United States.
7. Instruct a constitutional convention of governors to void the following;
A. Rule that the Johnson Amendment is unconstitutional and instruct the I.R.S. to suspend implementation.
B. Rule the Clinton Agenda 21 granting Government control of private land unconstitutional.
The United Sovereignty Alliance is a non-partisan, non-profit group that has been formed to address many of the issues the founding fathers presented when writing the Declaration of Independence. Bringing together like-minded Americans, the United Sovereignty Alliance seeks to return the values, honor, and integrity envisioned by the founding fathers back to the United States of America. For more information, please visit http://www.unitedsovereigntyalliance.org/Home.html, or contact Burton Hill, founder, at this location: http://www.unitedsovereigntyalliance.org/Contact-Us.html