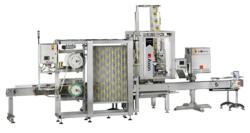 RALEIGH, North Carolina (PRWEB) October 04, 2012
Axon, powered by Pro Mach, is now offering the Aurora series of in-line mandrel-style shrink film applicators with stainless steel frame options in 304 grade for wet-filling rooms and 316 grade for increased corrosion resistance. This new option was developed for beverage, pharmaceutical, nutraceutical, dairy, chemical, and other manufacturers looking for the performance and versatility of stainless steel. (Axon Pack Expo 2012 Booth #3919)
The two Aurora models – Prime and Premium – offer applicator speeds up to 150 to 300 sleeves per minute, respectively. All Aurora units deliver simplified operation, maintenance, and line integration through the industry standards defined by Packaging Machinery Language (PackML). The units also feature a modular EtherNet/IP control platform from Rockwell Automation.
Along with a host of standard features, including recipe functionality, left or right hand orientation, bilingual operation, electric height adjustment, and a performance guarantee, Axon offers numerous custom options for Aurora units. This means customers only pay for the features most beneficial to their unique environment. In addition to stainless steel, Axon recently added air conditioning for the electrical enclosure, flange mounted disconnects, and a swing arm for an HMI panel to its lineup of options.
For more information on the innovative Aurora series of in-line mandrel-style shrink sleeve applicators, now with a demanding environments option, call 1-800-598-8601 and visit http://www.axoncorp.com to learn more about the company's heat-shrink labeling, tamper-evident banding, and stretch-sleeving equipment.
About Axon
Axon is a leading manufacturer of fully automated, heat-shrink labeling, tamper-evident banding, and stretch-sleeving equipment. With more than 30 years experience delivering products and solutions that are affordable, reliable, versatile, and easy to use, Axon sets the standard for technology development and customer value within the industries it serves. Visit Axon at http://www.axoncorp.com.
About Pro Mach
Pro Mach, Cincinnati, Ohio, is a leading provider of integrated packaging products and solutions for food, beverage, household goods, pharmaceutical, and other diverse consumer and industrial companies. Through three business units and related divisions, Pro Mach provides equipment, training, installation, and parts in primary packaging, end-of-line packaging, and identification and tracking. http://www.ProMachInc.com