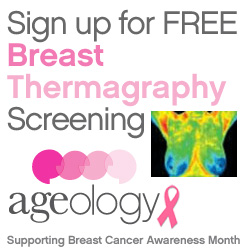 "Statistics show that breast cancer will kill about 3 percent of women. Death rates from breast cancer have been declining, especially in women younger than 50, in part because of earlier detection through breast cancer screenings, said Dr. Savage
(PRWEB) October 04, 2012
Ageology, a Chicago network of hormone therapy doctors, is helping Chicago women create awareness about breast cancer by giving away free thermography mammograms during Breast Cancer Awareness Month. Ageology physicians specialize in age management and integrative health services focused preventing chronic disease and promoting longevity.
Women in the Chicago area can save $295 by accepting Ageology's free breast cancer screening at one of the 22 Chicago locations during Breast Cancer Awareness Month.
Enter also on the Ageology Facebook Page at https://www.facebook.com/ageology.
About 226,870 new cases of invasive breast cancer will be diagnosed in women in 2012, according to the American Cancer Society's most recent estimates. Also, about 63,300 new cases of carcinoma in situ (CIS) will be diagnosed (CIS is non-invasive and is the earliest form of breast cancer). And about 39,510 women will die from breast cancer in 2012 alone.
"Breast cancer is the second leading cause of death among women. Only heart disease kills more women each year," says Ageology CEO Dr. Paul Savage and a leading bioidentical hormone therapy doctor in Chicago.
"Statistics show that breast cancer will kill about 3 percent of women. Death rates from breast cancer have been declining, especially in women younger than 50, in part because of earlier detection through breast cancer screenings, stronger awareness and better breast cancer treatments."
Unlike often-painful traditional mammograms, thermography screenings for signs of breast cancer uses an infrared camera that detects heat variations in the breasts. Thermography can find early warning signs—often manifesting as inflammation, infection, active cysts and tumors that cause excess blood in the tissue—of a possible unhealthy condition in the breasts.
Because there is no contact with the breasts, FDA-approved thermography does not cause pain. Although the so-called hot spots thermography may uncover are not always breast cancer, the scans can help women identify potential problems that could indicate issues like hormonal imbalances, unhealthy tissue, stagnant lymphatic flow and other conditions that require treatment. If so, Ageology hormone therapy doctors can help.
Like a traditional mammography, thermography is a screening tool only. An actual cancer diagnoses still requires a biopsy or lumpectomy. But because thermography is less painful, women can monitor any areas of concern within the breasts more frequently. The entire process only takes about 30 minutes.
Ageology has 22 different Chicago locations at which women can take advantage of a free screening during Breast Cancer Awareness month. But there are limited screening appointments available in Chicago. Contact Ageology for a Chicago office near you. http://www.ageology.com/ or call 312-255-9763
"Our experienced, caring, board certified, hormone therapy doctors focus on you, your health, safety and well- being. You'll never be neglected, embarrassed, judged or blamed," says Savage. "You will always be listened to, understood and heard … you'll be empowered with a trusting, honest, doctor-patient relationship."