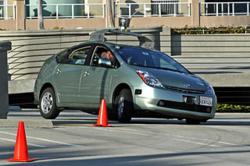 While it is commendable that manufacturers working on technologically-advanced safer cars, it is inconceivable that will be 'infallible'
Newport Beach, CA (PRWEB) October 04, 2012
Last week, California became only the third state in the nation to legalize driverless cars, which are still in the conceptual stage and are being developed by Google. According to an Oct. 1 news report in PropertyCasualty360.com, these cars may transform the way we drive, but they also raise a number of liability issues for auto insurance companies despite the fact that they are still years away from being parked in the lot of your neighborhood dealership.
What are some of the main issues involving these so-called driverless vehicles? According to the report, the biggest question is: If there is no driver, who assumes liability in the event of a car accident? Who is to be held responsible – the car's owner or the manufacturer of the vehicles? This is something insurance companies and the legal system would have to figure out. If the cars actually prove safer, it could mean lower insurance premiums for vehicle owners.
Some even believe that driverless cars will mean the end of auto accidents and therefore, the end of auto insurance. However, these cars, at least in California and Nevada, will not be entirely driverless because the law requires an operator who has the ability to override the computer. There is also the issue of one of these cars colliding with another vehicle that has a driver.
"While it is commendable that manufacturers working on technologically-advanced safer cars, it is inconceivable that will be 'infallible", said John Bisnar, founder of Bisnar | Chase. "As a law firm that represents car accident victims, we have helped thousands of people who have been injured or have lost loved ones not only in crashes caused by negligent drivers, but also defective automobiles and dangerous road conditions. Computers may be super-intelligent, but are they perfect?"
In addition, the operator of the driverless vehicle – whether he or she is present in the vehicle or operating it remotely – must be held liable for negligence or malfunction. "When a victim is injured in a car accident, he or she will incur expenses relating to hospitalization, medical care, lost wages and therapy costs. If the accident was not the fault of the victim, who is to be held liable? This is a very important issue that needs to be addressed before driverless cars hit our streets."
About Bisnar | Chase
The California car accident lawyers of Bisnar | Chase represent victims of auto accidents, defective products, dangerous roadways, and many other personal injuries. The firm has been featured on a number of popular media outlets including Newsweek, Fox, NBC, and ABC and is known for its passionate pursuit of results for their clients. Since 1978, Bisnar | Chase has recovered millions of dollars for victims of auto accidents, auto defects and dangerously designed and/or maintained roadways.
For more information, call 800-561-4846 or visit http://www.california-lawyer-attorney.com for a free consultation.
Source: http://www.propertycasualty360.com/2012/10/01/who-insures-a-driverless-car