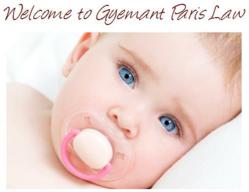 Gyemant Paris Law is proud to serve LGBT families on the pathway to adoption.
San Francisco, CA (PRWEB) October 09, 2012
Gyemant Paris Law - Adopt SF is a law practice serving the Bay Area's needs in the areas of baby for adoption, surrogacy, and other family law issues. The firm is proud to serve lesbian, gay, bisexual, and transgender families (LGBT) on the pathway to adoption, from advisement to direct representation based on individual needs.
The policies and laws related to adoption are complex and frequently change, but this fact should not discourage LGBT families from attempting adoption. LGBT individuals do not generally face any additional barriers in the adoption process in California, but in the event that questions or issues do arise, experienced legal advice and strong representation from firms like Gyemant Paris Law - Adopt SF is often essential to success. Their professional legal team opens doors for loving parents to raise their adoptive child in a caring, healthy environment.
For adoptions outside of California, Gyemant Paris Law - Adopt SF's knowledge of individual state law is a great service to clients who may be unaware of new legislation. LGBT clients may encounter barriers in certain states, but this is generally not an insurmountable obstacle when families are backed by Gyemant Paris Law - Adopt SF's legal expertise. The goal of the entire staff is, in short, to create families, and their support of LGBT rights reflects the belief that love and care are the foundational components of a healthy family.
About the company
Gyemant Paris Law is a family practice specializing in Creating Families. They offer a wide quantity of family law services in addition to adoption services and surrogacy. They can provide options ranging from direct representation to document preparation, advisement and coaching for individuals and families.
If interested in starting the adoption law process, or would like more information about Gyemant Paris Law - Adopt SF's outreach services, legal services, and being featured on their website please contact using the form below or call 415-523-5871 for a free 15 minute consultation with an adoption professional. If pregnant and interested in contacting one of their families, please contact a member of their adoption team on their toll free number 866-341-0801 or text 415-940-1014. For more information visit their website at http://adopt-sf.com.