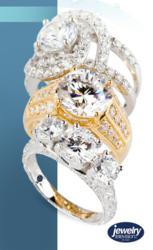 Knoxville, Tenn. (PRWEB) October 05, 2012
Jewelry Television, an interactive multichannel retailer, is billing its 19th anniversary as the largest jewelry and gemstone celebration of the year. The network has planned a week-long event from Oct. 9 through 14 to include appearances from customer's favorite brands, the launch of a proprietary Marilyn Monroe jewelry collection, numerous promotions, and shopping incentives.
Special expert appearances from featured jewelry brands Vanna K, Jose Hess, Artisan Collection of Israel and many other collections will focus on new products launches and educating customers on the latest jewelry styles and new gemstone discoveries. The company will also offer special financing options on select items during the week.
"Since our inception 19 years ago, we've grown into the largest retailer of loose gemstones in the world," noted Pat Bryant, chief marketing officer. "Our global purchasing power and international operations allow us to offer gorgeous jewelry and gemstones direct from the source so our pricing is usually significantly lower than many retailers."
JTV is especially excited to premiere the Marilyn Monroe jewelry collection on Oct. 10 at 8 p.m. The Marilyn Monroe collection features more than 70 pieces of fashion jewelry ranging from $27 to $199.
"Many of the pieces are reproductions of jewelry Marilyn actually wore," said Bryant. "Others are inspired by her iconic sense of style and love of jewelry."
JTV is the only national retailer offering the Marilyn Monroe jewelry collection in time for holiday 2012.
JTV offers more ways to shop. Check your local television listings, shop http://www.JTV.com or download free mobile shopping apps for the iPhone, Android, and iPad.
About Jewelry Television®
Jewelry Television® (JTV) is the only interactive, multichannel shopping network that focuses exclusively on the sale of jewelry and gemstones. The privately-held company was founded in 1993 and broadcasts high definition programming 24 hours a day, seven days a week, to more than 80 million unique households in the U.S. Jewelry Television® was recently ranked the 13th largest retailer of jewelry in the U.S. by National Jeweler. JTV.com is the fifth largest jewelry destination on the internet according to Internet Retailer's Top 500 Guide for 2010. For more information, visit http://www.jtv.com.
# # #