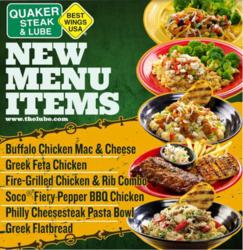 One goal of this menu was to bring signature chicken breast and pasta features to the local marketplaces where guests can enjoy traditional American cuisine with a Lube twist
Sharon, PA (PRWEB) October 05, 2012
Quaker Steak & Lube®, known for its Best Wings USA and over 20 sauce varieties, has rolled out a new menu system-wide. The new menus will be appearing in all of the award-winning casual-dining concept's restaurants open in seventeen US states.
"One goal of this menu was to bring signature chicken breast and pasta features to the local marketplaces where guests can enjoy traditional American cuisine with a Lube twist," said Katy Malaniak, Sr. Director of Food & Beverage.
Highlights of the new menu include the Backfire Boom Boom Shrimp coated with the new spicy Boom Boom sauce, Steak & Bleu Salad, Baja Chicken Wrap, as well as new chicken and pasta entrees: Greek Feta Chicken, Tex-Mex Chix Queso Mac, Buffalo Chicken Mac & Cheese and the Philly Cheesesteak Pasta Bowl.
Additionally, the brand launched two new wing sauces on the Scoville Heat Unit: Dusted Mango Habanero, an award winner at the 2012 National Buffalo Wing Festival and the spicy-sweet Boom Boom sauce.
The Lube® also continues to offer "Wings Your Way" to our guests in a new customizable "Custom Built Combos" category where Lubies can choose a wing protein and signature sauce and their favorite munchies aside. The protein options include Bone-In Wings, Breaded Boneless Wings or the Grilled Boneless Wings.
In early September, the brand won "Festival Favorite" at the National Buffalo Wing Festival for the second time (also won in 2010) for its wings. The Lube® also brought home two first place wins for its Dusted Mango Habanero and Triple Atomic sauce.
For more information about Quaker Steak & Lube®, please visit quakersteakandlube.com.
About Quaker Steak & Lube®:
Founded in 1974 and built in an abandoned gas station in Sharon, Pa., the original Quaker Steak & Lube® began as a cook-your-own steak restaurant, before expanding to over 50 locations throughout the United States and Canada. The unique décor, including race cars suspended from the ceilings, motorcycles, Corvettes and gas station memorabilia, combined with the crave-able food and high-octane events has afforded The Lube® a cult-like fan following. Today, Quaker Steak & Lube® has become one of the fastest-growing restaurant chains in the country, and has won hundreds of national and international awards for its wings and 20 different wing sauces. Most recently it was named the 2012 Festival Favorite at the National Buffalo Wing Festival in Buffalo, New York. For more information visit http://www.quakersteakandlube.com