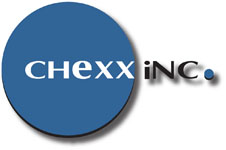 Who else can provide local payments to respondents in Mexico, Russia, India and Brazil?
Vancouver, BC (PRWEB) October 04, 2012
International payout provider Chexx Inc. will be in attendance at the 37th annual CASRO conference, October 8-11, 2012 in Scottsdale, Arizona. Chexx Inc. provides convenient international payout services by check, electronic payments and prepaid cards. With 17 years of experience in international outbound payments, Chexx Inc. offers attendees of the conference the ability to utilize the latest technology to tap into both major and developing markets under the guidance of payout experts.
Chexx Inc. has been serving the needs of online market research companies for over 10 years and understands the unique challenges faced by market research companies today. Chexx Inc. brings the latest in technological advances to their proven payout solutions; they are looking forward to the opportunity to connect with attendees and share their experience in a myriad of markets across the globe. Payout specialists will be on hand to provide valuable advice on paying out to international panelists. "There are only a few simple rules to follow when sending payment to international respondents" states Peter Sampson, VP of Sales for Chexx Inc., "Chexx Inc. ensures that international panelists receive funds fast, in their own local currency and in a format that works for them." Chexx Inc. offers easy to cash local payments in over 200 countries.
The CASRO conference will highlight the challenges faced by the industry in a time of rapid growth and change brought about by the influence of emerging technologies and data streams. The roster of speakers will feature objective viewpoints from the industry's most respected and influential CEOs. Chexx Inc. provides easy solutions for some of the challenges online market research companies face: "Our international payout capabilities make it possible for companies to maintain a competitive edge in today's market", Sampson continues, "Besides familiar markets such as North America, we offer payout solutions in some of the most challenging markets worldwide. Who else can provide local payments to respondents in Mexico, Russia, India and Brazil?".
Founded in 1975, the Council of American Survey Research Organizations represents over 300 companies and market research operations in the United States and abroad. CASRO links a network of market research CEOs and senior executives in an environment that enables them to learn from one another and access the resources and insights they need to lead effectively. CASRO provides its members with numerous benefits, including access to industry data, and staff training and networking opportunities at workshops and conferences throughout the country. CASRO has also achieved unique status among all North American associations by serving as an active representative on numerous global initiatives and as chief liaison with several leading international associations.
About Chexx Inc.:
With full service offices in Europe and North America, Chexx Inc. serves the payment disbursement needs of market research companies, international payroll, sales organizations and affiliate marketing networks around the world. For over 17 years they have specialized in providing timely, convenient and cost-effective payouts with excellent results. Chexx Inc. maintains a large network of regional banks to provide payment coverage in over 200 countries. Considerable resources are focused on technical integration and relationship management with each banking partner, resulting in stable global coverage and built in redundancy in key regions.