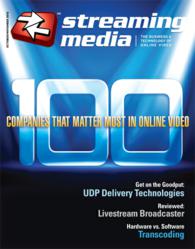 (PRWEB) October 05, 2012
Streaming Media magazine and StreamingMedia.com, the leading publications on online video, announced their second annual list of the 100 Companies That Matter Most in Online Video. The Top 100 list recognizes those companies that have had a significant impact on the online video ecosystem, as deemed by a panel of 11 industry experts and Streaming Media editors.
The judges recognized the top 100 companies by the current contributions these companies are making to the online video industry. The list helps to show where the industry is headed and who is driving that movement. The Streaming Media 100 list includes a variety of companies, from small, nimble startups to large publicly traded entities.
Included in the Streaming Media 100 list are these companies:
Google
Akamai
Livestream
NewTek, Inc.
Netflix
Thomson Reuters
Roku, Inc.
Digitas
Apple
Adap.tv
For a complete list, go to http://www.streamingmedia.com/Articles/ReadArticle.aspx?ArticleID=85287
This list has been released just in time for the Streaming Media West Conference, taking place October 30–31 (http://www.streamingmedia.com/Conferences/West2012), where many of the Top 100 will be represented. Some will have speakers at the podium, while others will be displaying on the exhibit floor so show attendees can see firsthand the impact they are having on streaming media.
About Streaming Media Magazine
Streaming Media magazine is the leading publication discussing all forms of online video technology and business models. The magazine also administers and hosts the annual Streaming Media East, Streaming Media West, Content Delivery Summit, and Enterprise Video conferences. Each of these properties is solely focused on giving attendees the chance to see and hear the best and the brightest minds in the online video industry — at the podium, in the Exhibit Hall, and among the attendees. For more information about the magazine, its editorial calendar, its events or Streaming Media magazine in general, please visit us on the web at http://www.streamingmedia.com, or on Twitter at @StreamingMedia (http://twitter.com/StreamingMedia). The StreamingMedia.com website (which is updated daily) and Streaming Media magazine are properties of Information Today, Inc.