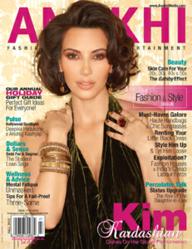 "I was very excited to do my first cover and interview with a South Asian magazine. I loved my interview with Raj and ANOKHI magazine. Thank you for the opportunity to reach out to my global South Asian fan base!"

Kim Kardashian
Toronto, ON (PRWEB) October 05, 2012
ANOKHI magazine, Canada's most frequently published and North America's longest running South Asian high gloss fashion, lifestyle & entertainment quarterly, releases its final issue of 2012: it's much anticipated Fall 'Fashion & Style' issue on newsstands and doorsteps in Canada, the US and the UK, and in inboxes worldwide next week. In so doing, it reaches a rare milestone in North American, South Asian publishing – 10 successful years of service. The 10 year history can be viewed in covers here: http://www.anokhimagazine.com/anokhi-magazine.
This issue sees a first with reality TV superstar, Kim Kardashian gracing her first South Asian magazine cover with an in depth 10-page interview entitled "The Business of Kim Kardashian." When asked what she felt about gracing the cover, she stated, "I was very excited to do my first cover and interview with a South Asian magazine. I loved my interview with Raj and ANOKHI magazine. Thank you for the opportunity to reach out to my global South Asian fan base!"
When asked why Kim was chosen to be featured as this particular cover's celebrity story, founder/publisher, Raj Girn stated, "She's a woman who many women around the world look up to as a fashion influencer, and this being our annual 'Fashion & Style' issue, the alignment was obvious. Plus, our on-going goal at the ANOKHI MEDIA brand is twofold: to recognise the exponentially growing mainstreaming of the South Asian community but to showcase that mainstreamers also recognize the importance and relevance of the South Asian community's support. Kim's smart. She understands that her fan base is not ethnic centred but globally like-minded." Girn continued to say, "ANOKHI magazine, the first installment of the ANOKHI MEDIA brand, has from the onset, always been in touch with the fact that women centric subject matter is culturally cross over in nature, and as we enter our 11th consecutive year of publishing at the start of 2013, we will continue to elevate and bring together women from all walks of life, in all corners of the world, with rich, reliable and relevant editorial content."
The fall issue also brings with it a wealth of diverse content to service today's multi-tasking, cosmopolitan woman, from fashion, style, beauty, nutrition, fitness, advice, wellness, home, business, travel, technology, hot button topics, events & entertainment, which ANOKHI magazine has become known for over the years. In addition, and unique to this issue, ANOKHI's expert editors have compiled an annual favourite, the 'Holiday Gift Guide'; a special insert which tackles the stressful process of gift buying during this demanding season.
ANOKHI MEDIA is currently compiling its biggest issue to date: the highly anticipated 10th Anniversary Collector's edition releasing in January 2013, and a celebratory 10th Anniversary 'Prestige Awards' Show, taking place on Saturday February 2nd, 2013 at the award-winning, Queen Elizabeth Theatre in Toronto.
ABOUT THE ANOKHI MEDIA BRAND
Launched in 2002, ANOKHI MEDIA is a multi-platform brand which creates, distributes & promotes lifestyle and entertainment content about the cosmopolitan, global South Asian, through a quarterly magazine, weekly newsletter, websites, social media & live events.
ANOKHI magazine is the only high gloss publication of its kind in North America to have garnered an impressive roster of A-List cover personalities on both sides of the Atlantic, including mainstream notables such as Kim Kardashian, Jennifer Lopez, Nelly Furtado and Nicole Scherzinger; South Asian celebrities including Aishwarya Rai-Bachchan, Katrina Kaif, Mallika Sherawat and Kajol; crossover artists such as Freida Pinto, Jay Sean, Melinda Shankar and Lisa Ray. Additionally, ANOKHI is the only such magazine in North America to have long standing support from multinational advertisers including, but not limited to: Aveeno, Air Canada, Etihad Airways, Hallmark, Hilton Hotel, Johnnie Walker, Lancôme, L'Oreal, Loblaws, Rogers Communications, Rowenta Beauty, Sears, Sheraton Hotel and Vichy.
To receive a copy of the fall issue, and for media interviews with founder/publisher, Raj Girn about the fall issue, the ANOKHI MEDIA brand, the 10th Anniversary issue or the 'Prestige Awards' Show, please contact:
Farah Khan
farah(dot)khan(at)anokhimedia(dot)com
416.535.7000
-30-
1179 King Street West, Suite 205, Toronto, Ontario. Canada. M6K 3C5. T: 416.535.7000 F: 416.535.7002
http://www.AnokhiMagazine.com | http://www.AnokhiPulse.tv | http://www.OpenChest.com
FACEBOOK | TWITTER: | PINTEREST | GOOGLE +: | LINKEDIN: Search 'ANOKHI MEDIA'