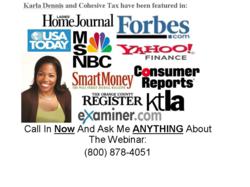 "I don't have enough words to describe the respect I have for Karla, except to say that I am fiercely proud to know her and to call her, friend"
~ Loral Langemeier
(PRWEB) October 08, 2012
Karla Dennis gives another amazing free webinar teleconference. This time it's about educating the average taxpayer about overpaying on their taxes.
The average taxpayer overpays by $4800. Learn how to avoid this by listening to the world renowned tax strategist and nationally recognized enrolled agent, Karla Dennis who was featured in the September 2012 issue of Forbes Magazine.
The goal of which is to save money and keep assets by not overpaying on taxes, with tax strategies and tax credits.
Join us live and see what Karla Dennis, the nation's go to tax expert has to say about claiming your over payment of taxes.
Join us for an inspiring 30+ minute Tele-Conference with Karla Dennis.
Listen to interactions with Karla and hear her answer questions in this recorded session.
Karla Dennis was recently featured in The Southern California Edition of Forbes Magazine as one of the Nations Leading Tax Strategist. The reason why is because on average, she has found that clients have over paid their taxes by $4,800. This year alone, she saved clients over $1,200,000 in taxes. You need to claim your refund too. Join Karla on a Live Webinar where she will show you the following:

The Secrets to getting back more taxes
Why some people have all the luxuries of life and pay little to no taxes
What are the smarter sharper taxpayers doing to save on their taxes through the use of insurance?
Why do taxpayers still give their kids an allowance?
Why short selling some investment property may help make money this year.
Karla Dennis is the Co-Host of CallToni Radio On KTALK 1150 on the A.M. dial. Join her every Saturday from 3:00-4:00 p.m. You can hear Karla live on your next DPP call and find out why everyone in America is paying attention to what she has to say.
Join us for about 30-45 minutes, LIVE! at 5:30pm Pacific on Tuesday October 9th 2012.
Don't miss this!
Join us to hear from Karla for about 30-45 minutes, and listen. This is available for everyone.
Karla Dennis is CEO and owner of Cohesive Tax™, a tax relief firm.
Karla is actively sought as a tax expert by the media and has been quoted by Smart Money, CNBC, Consumer Reports and MSNBC. She actively speaks to various business leaders, executive organizations, trade groups, community factions and civic gatherings, and area Chambers of Commerce.