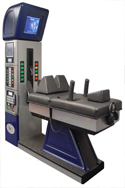 This is about doing what's right for the patient - Dr. Canfield
Grand Rapids, MI (PRWEB) October 16, 2012
Dr. Jacob Canfield has been using a new state of the art technology to help people get out of pain without the use of drugs or surgery. This sort of treatment, known as non-surgical spinal decompression, is performed by our very own Grand Rapids chiropractor Dr. Jacob Canfield. He is aided with the help of a computerized machine that has been researched, designed and built to be able to treat many different conditions.
Some of these conditions include herniating and protruding discs, bulging discs, facet syndrome, spinal stenosis, and degenerative disc disease.
As one of the few offices to carry the DRX9000 in west Michigan, Simple Truth Chiropractic in Grand Rapids, Michigan is paving the way with this new treatment for people that are suffering with low back pain.
The machine works by gently pulling apart the vertebra to allow the disc to move back into the center where it belongs. There has been a lot of great feedback from people even after a few visits.
Dr. Canfield goes on to say, "This isn't just about getting people out of pain. This is about allowing grandparents to pick up their grandkids again. This is about allowing people to go to work and enjoy what they do. This is about doing what's right for the patient."
If you want to learn more about Spinal Decompression and if it could help you, then contact our Grand Rapids chiropractic office online or over the phone. Just call 616-458-8063 to set up a free consultation where Dr. Canfield will review any MRI or CT studies you may have and let you know if you're a candidate for Spinal Decompression.