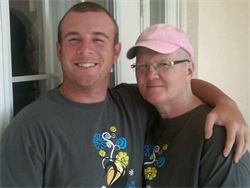 Miami, FL (PRWEB) October 05, 2012
Melanoma can affect anyone at any time, and it's rare that the survivors get a chance to fight back. Professional golfer David Henry is one such example. After helplessly watching his mother Chris continually fight a ferocious, years-long battle against skin cancer, he himself was diagnosed with the disease. After several treatments however, he's now recovered and able to continue with his career in golf.
In an effort to spread Melanoma awareness and information on both its avoidance and treatment David, whose story has been told in Men's Health Magazine, has established the non-profit website http://www.playingforacure.biz.
David has chosen to intertwine Melanoma Awareness and support for the Melanoma Research Foundation with his golfing career. He's made this decision not only for the benefit of his mom, but also for the millions of others including himself who have fought this atrocious battle. David Henry graduated from Florida's Professional Golfer's Career College while achieving their Perseverance Award during his time there, and now the goal is to use his new career to help shed light on the vastly under-covered issue of skin cancer.
If you or your company would like to sponsor David Henry as he plays a series of tournaments in an effort to qualify for the PGA tour in 2013 and beyond, please contact him through his http://www.playingforacure.biz website.
David unquestionably has the talent and ability to thrive in professional golf, and after fighting through so many health setbacks now lacks only the funding to not only become a successful athlete, but also use that success to help contribute significantly to the cause of defeating skin cancer.
Helping to support David will benefit many people, in addition to bringing us all closer to the day when curing Melanoma is no longer the dream…but the reality.