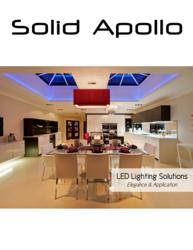 LED lighting is here to stay and is finally affordable for everyone that would like futuristic and economical lighting in a home or business.
Seattle, WA (PRWEB) October 05, 2012
Solid Apollo LED lighting is excited to partner up with the Seattle Home Show, currently in its 74th year, to bring new technology and information to the public. Along with hundreds of other vendors, Solid Apollo will be showing new LED lighting products emerging into the marketplace. The Seattle Home Show has historically been a fantastic place to come and find new products and ideas for making life better, and 2012 is no exception. LED lighting is here to stay and is finally affordable for everyone that would like futuristic and economical lighting in a home or business.
It is all about convenience and comfort in the home while saving money and protecting the environment. Solid Apollo LED and the Seattle Home Show are committed to products that do just that. LED lighting solutions save money, use far less energy than existing technology and to not contain any harmful toxins. LED Products are recyclable but will not need disposal for ten years if installed properly. LED lighting provides an extremely pure lighting source and can be installed almost anywhere by anyone with a little DIY spirit.
Solid Apollo has a wealth of knowledge to get LED lighting installed anywhere. Add kitchen under cabinet LED lighting and make guests feel welcome, make a dark area light up at night with LED deck lighting, spotlight a favorite plant or tree with lawn and garden LED lighting or illuminate a narrow cove for perfect LED accent lighting. All of these options are available to play with at the Seattle Home Show starting Friday, OCT 5th-7th.
The light supplied by LED's is steady, constant and comes in absolutely pure wavelengths, unlike other lighting sources, giving it the ability to produce low energy, high brightness accent lighting as well as working light. Use LED's to get light in places where existing lighting technology cannot go like closets or behind a flat screen TV! Once LED lighting is installed, it becomes so much easier to imagine all the places it can go to make the home or business more comfortable and attractive. It will increase the value of any home or building in which it is installed. The Seattle Home Show will have a full array of the LED products from Solid Apollo.
FREE Entry Passes are available compliments of Solid Apollo, for anyone who would like to visit the Seattle Home Show this Friday, Saturday or Sunday. If interested simply go to Will-Call at the Seattle Home Show at Century Link Field Oct 5th-7th and tell them Solid Apollo LED has reserved an Entry Pass. Tickets are limited and it is first-come, first-serve, so get to the show early.
Solid Apollo's high quality LED lighting lasts for a minimum of 50,000 hours when running 24 hours a day and an astounding 10 years if running for 8-10 hours a day! That means no replacing light bulbs or buying new lighting for a long time. That saves time and money, not to mention the amount of money saved in electricity usage. A standard light bulb produces 800 lumens of light but consumes 60W of power. Solid Apollo's 16.4 foot LED strip Light produces nearly twice the lumens, ~1400lm, but only consumes 24W. That would take two incandescent light bulbs and 120W of power to achieve. That is a reduction of over 80% in the amount of electricity needed to produce roughly the same amount of light. It does not take long to see the savings take effect in a home or business and is visible on the electric bill.
Come to the Seattle Home Show Oct 5th-7th at Century Link Field along with thousands of other interested people to learn more about how to save money and make a home or business a more enjoyable place to be. This is an exciting opportunity to play with new home improvement products for 2013.
LED Lighting is very versatile and Solid Apollo carries products for every job LED's are capable of tackling so if any questions arise, Solid Apollo LED is available for consultation on a toll free number. If calling from Washington State or the Seattle area, dial 425-582-7533 for any questions about the 2012 Seattle Home Show, the 2012 Everett Home Show, or to request a copy of the printed LED products catalog.
About Solid Apollo.com: Solid Apollo is a cutting edge LED lighting company which designs produces and distributes a wide range of High Quality LED Lighting Products and lighting solutions to meet today's on-going, new generation, lighting demands. For more information and to order online, visit Solid Apollo.com or call toll free 866-592-3873.