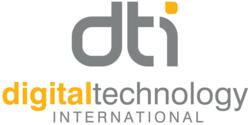 The acquisition of IO Intelligence extends our business analytics product strategy.

Dan Paulus
President
DTI
Springville, UT (PRWEB) October 04, 2012
Digital Technology International (DTI™) announces the expansion of their digital solutions with the acquisition of IO Intelligence—experts in business intelligence and analytics—to reinforce and increase the company's digital strategies.
IO Intelligence has been a Digital Technology business partner for over seven years, and has been the force behind DTI Circulation InSight and DTI Advertising InSight products. The acquisition brings more business analytics expertise to DTI. The InSight products and services provide more timely and accurate information throughout a customer's publishing enterprise.
"As a long time fully integrated business partner with DTI, IO Intelligence Systems, Inc. is proud to announce our purchase by DTI," said Jim Williams, president, IO Intelligence. "We look forward to continuing to serve our shared InSight customers and the new opportunities presented from this change. We believe that we'll be able to even more seamlessly work with our existing customers and better enhance the InSight reporting systems through deeper access to core development teams at DTI."
"The acquisition of IO Intelligence extends our business analytics product strategy," said Dan Paulus, president, DTI. "Our customers are increasingly using management dashboards and applying business intelligence and analytics tools to improve their business performance. IO Intelligence adds strategic expertise and a fast growing revenue source to Digital Technology."
The new DTI InSight team will take advantage of InterSystems DeepSee software. InterSystems DeepSee is active analytics software that makes it easy for users throughout an enterprise to make better decisions based on valuable insights.
The IO Intelligence staff will remain in Lancaster, Pennsylvania, and will be integrated into the organization as the DTI InSight team.
Digital Technology delivers Digital All Ways
About Digital Technology International: Digital Technology International (DTI™) delivers digital audience engagement, digital revenue expansion and digital cost performance for the global news media industry. The company's innovative technology and professional services help media organizations engage audiences by delivering targeted news and advertising with Web, print, mobile, and social media. On-site or via DTI Cloud Digital Technology software helps more than 2,000 publishers around the world compete and win across all channels. The company is headquartered near Salt Lake City, with offices in Australia, Brazil, Canada, Finland, France, Germany, Panama, the United Kingdom and the United States. Digital Technology may be found at: http://www.dtint.com