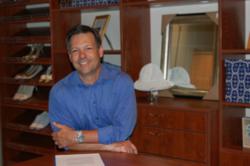 Complete customer satisfaction is a team effort at Closet America.
Lanham, Maryland (PRWEB) October 06, 2012
Closet America, a leading home professional closet organization manufacturer and installer headquartered in Lanham, Maryland, announced that the company has been awarded the 2012 Guildmaster Award for exceptional customer satisfaction from GuildQuality, a customer satisfaction surveying company. Closet America was one of nearly 200 home builders, remodelers, developers and contractors throughout North America recognized for their superlative performance.
The primary requirement for receiving a Guildmaster Award is exemplary customer service, as demonstrated by an extremely high customer recommendation rate. In the home building, remodeling, and real estate industry, the average customer recommendation rate for businesses is approximately 70%. In order to receive a Guildmaster Award, a member must achieve a recommendation rate of 90% or greater. Closet America exceeds that requirement with a consistent recommendation rate over 96%.
Closet America utilizes a comprehensive customer survey system to measure and assess all aspects of their operations. The feedback given by customers is reviewed on a regular basis and is used to gauge the customers' level of satisfaction, as well as pinpoint areas for potential improvement.
According to Guild Quality, "Our annual Guildmaster Awards celebrate service excellence in the building, remodeling, contracting, and real estate professions. Each year, GuildQuality gives special recognition to the companies that demonstrate an ability to deliver a consistently superior customer experience."
Skip LaBella, president of Closet America, was proud to receive the Guildmaster Award. "We're thrilled to receive this recognition from GuildQuality for the second year in a row. Closet America is dedicated to customer satisfaction, and our high recommendation rate is a testament to this." LaBella expanded on the reasons for company's exceptional customer service: "Complete customer satisfaction is a team effort at Closet America, and I'm extremely proud of all of our people here who contribute to that on a daily basis. Having that effort formally recognized is a proud moment for our entire staff, thanks to the level of service we all strive for on a daily basis."
About Closet America
Closet America is a privately owned and locally operated manufacturer and installer of custom home organization systems for closets, home offices, pantries, and garages. Founded in 2007, Closet America has steadily grown into one of the premier names in the professional organizing systems industry, by raising the standards for quality and customer service. Closet America is a vertically integrated company where design, engineering, manufacturing, sales, and service are all controlled internally. Closet America has two locations, with a manufacturing plant and distribution center in Landover, Maryland, and corporate headquarters, administrative offices and showroom in Lanham, Maryland.
About GuildQuality
GuildQuality's community of quality includes the best remodelers, homebuilders, developers, and home services contractors in the United States and Canada. By using GuildQuality's independent surveying, members collect objective feedback from their customers and use that feedback in their pursuit of continuous improvement in the quality of their service.
About the Guildmaster Awards
Once a year, GuildQuality recognizes exceptional customer service with the Guildmaster Awards. Visit the Guildmaster section of the GuildQuality website to see information about all 2012 Award Winners and read about the award qualifications.