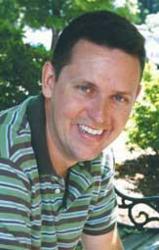 St. Louis, MO (PRWEB) October 05, 2012
The St. Louis County Library Foundation and Left Bank Books are pleased to present a Reading Garden Event Series program with top children's book author Bob Shea, who will discuss his new book "Dinosaur vs. Santa," the fourth installment in his bestselling Dinosaur series. The free, public event will be on Saturday, November 3 at 3:00 p.m. at Library Headquarters, 1640 S. Lindbergh Blvd.
The program is free and open to the public. Books will be available for purchase at the event from Left Bank Books.
Bob Shea continues to delight readers with his fun little dinosaur and the star of his previous books "Dinosaur vs. Bedtime" and "Dinosaur vs. the Library." In his new book, "Dinosaur is getting ready for Santa!" he tackles many challenges—decorating, making presents for Mom and Dad, trying not to be naughty—and defeats each one with his trademark ROAR! But on Christmas Eve, when he hears some rustling downstairs, he can't resist a peek. Will our feisty red friend meet his match in the man in the red suit? Complete with sparkly silver foil on the front cover and a removable letter to Santa for little ones to personalize, this funny and sweet book is a must-have for the holiday season.
Bob Shea is the author of "Big Plans," illustrated by Lane Smith, as well as "Race You to Bed" and "I'm a Shark." "Dinosaur vs. Bedtime" was selected as a Best Book of the Year by Amazon and a Bulletin Blue Ribbon by the Center for Children's Books.
Young fans can also meet Bob Shea at a special pre-event pizza party featuring special guest Santa Claus! Tickets are $25 and admit two and include one copy of "Dinosaur vs. Santa. Tickets can be purchased through http://www.slcl.org. The pizza party will be from 11:00 am – 1:00 pm.
St. Louis County Library Foundation's Reading Garden Event Series hosts free family events with authors and musicians. Sponsors include Commerce Bank, Companion, and the Sara Guth Costigan Memorial Fund.
Program sites are accessible. Upon two weeks notice, accommodations will be made
for persons with disabilities. Contact St. Louis County Library by phone 314-994-3300 or visit http://www.slcl.org.