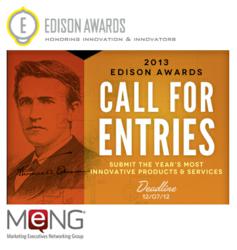 MENG members are among the Panel of Judges who help determine the Edison Award winners.
Old Saybrook, CT (PRWEB) October 08, 2012
The Marketing Executives Networking Group (MENG) has announced that it will again partner with the Edison Awards for 2013, marking the fourth consecutive year of successful collaboration.
Earlier this month, the Edison Awards, which has been recognizing and honoring the best in innovations and innovators since 1987, announced the opening of its Call for Nominations for the 2013 competition. Throughout its rich history, the Edison Awards have recognized game changing innovations that are at the forefront of new product and service development and marketing and human centered design. Nominations are being accepted through December 7, 2012 in fifteen Award categories, including the MENG-powered "Thomas A. Edison Marketing Award." MENG members are also among the Panel of Judges who help determine the Award winners.
The MENG-powered Thomas A. Edison Marketing Award was introduced last year and honors extraordinary cases in which the integration of marketing, markets, and customer thinking has been a key driver in the genesis and development of a new product, service, or offering. The Award recognizes the leadership role that marketing plays as an inherent and critical factor in every aspect of the innovation – from inspiration, discovery, and development to distribution, positioning, and market introduction. The inaugural MENG-powered Award was presented last April to four outstanding entries:
Gold: The Domino Project by Seth Godin
Silver (tie): HubSpot all-in-one marketing software
Silver (tie): YouTube Space Lab by YouTube
Bronze: Single-Source+ Advertising Analytics by Nielsen Catalina Solutions
MENG's Chairman, Joey Iazzetto, has been a participant in the Edison Awards for several years, representing Award winning nominations in 1995 and 2009. "I'm enthusiastic about making my clients aware of the Edison Awards because of the spotlight an award of this caliber can focus on their new products," said Iazzetto. "And on behalf of MENG, I'm excited about the visibility this brings to our organization and the critical role that marketing plays in the launch of a successful product or service."
The Edison Awards symbolize the persistence and excellence personified by Thomas Alva Edison (1847-1931), whose extraordinary new product and market development methods garnered him 1,093 U.S. patents and made his name recognizable throughout the world. "Winning an Edison Award provides a unique platform not only for distinguishing innovators for their achievement, but also for enhancing the visibility of the innovation itself in the global marketplace," said Frank Bonafilia, Edison Awards' Executive Director. He further noted that Edison Award nominees contribute to the future of innovation, since a percentage of the fees are earmarked for educational programs designed to foster future innovators.
The Edison Awards for new product and service innovation, including the MENG-powered Thomas A. Edison Marketing Award, will be presented during the Annual Edison Awards Gala in late April, 2013. Details will be announced in late September. For information, visit http://www.edisonawards.com.
The Marketing Executives Networking Group (MENG) is a national 1,600 VP/C-level career enhancing community of marketers and sales leaders with 16 chapters covering all industries. MENG (http://www.mengonline.com) is a non-profit, volunteer focused organization where members help members and take advantage of specific educational and developmental benefits to stay on top of the changing marketing world.