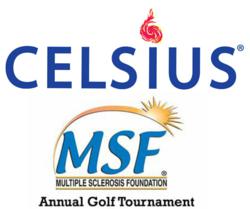 Boca Raton, FL (PRWEB) October 09, 2012
Celsius Holdings, Inc. (Other OTC: CELH.PK), is proud to be the official drink sponsor of the Multiple Sclerosis Foundation (MSF) annual golf tournament. The event will take place on Thursday, October 11th at the Parkland Golf and Country Club. This event titled "Par for the Cause" is meant to raise money for the MSF. The golf tournament will include 120 golfers who will be playing 18 holes. At this event, it is not just about being the best golfer, but also about being the best dressed. The golfers participating in the tournament will also get scored on their attire, allowing "Fairway to meet Fashion". The top three teams with the lowest golf score and the highest amount of points for "Best Dressed" will be awarded prizes. After the golf tournament, participants and spectators can enjoy BBQ and drinks. They can also view a showcase of Golf Fashion by Alfredo Versace and enter to win prizes from the raffle. All net proceeds will benefit the MSF programs and services.
The Multiple Sclerosis Foundation (MSF) is a non-profit organization that was established in 1986 and is based out of Fort Lauderdale, FL. MSF offers programming and support to keep people with Multiple Sclerosis self- sufficient and in their homes. They also offer educational programs to heighten public awareness and promote understanding about the disease.
About Celsius Holdings, Inc.
Celsius Holdings, Inc. (Other OTCH: CELH.PK) markets Celsius®, the world's first and only negative calorie supplement drink. Backed by multiple clinical studies, Celsius has been proven to burn up to 100 calories and more per serving and also provides lasting energy. When consumed before exercise, Celsius is shown to reduce body fat and improve endurance. The Celsius team is dedicated to providing healthier, every day refreshment through science and innovation.
For more information about Celsius: http://www.celsius.com
For more information about the multiple sclerosis foundation: http://www.msfocus.org
For tickets and sponsorship information for the MSF golf tournament contact Nathalie Sloane: nsloane(at)msfocus(dot)org or 954-776-6805