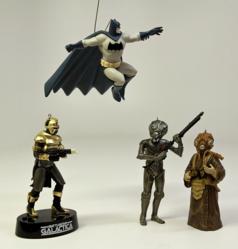 Kansas City, MO (PRWEB) October 05, 2012
Hallmark announces its return to New York Comic Con International at the Javits Center (Oct. 11-14), the East Coast's biggest popular culture convention. Attendees will have access to Comic Con-exclusive Hallmark Keepsake Ornaments, visits with a Keepsake Ornament artist and receive a sneak peek of products to be released in 2013.
During the convention, Hallmark will sell limited quantities of the following Keepsake Ornaments:

4-LOM and Zuckuss: This two-pack features the criminal droid 4-LOM and Gand tracking expert Zuckuss from "Star Wars: The Empire Strikes Back™." Created exclusively for event sales, 4-LOM and Zuckuss are the last bounty hunters depicted in the film to become Keepsake Ornaments. Limited run of 800 sets ($35 per set).
A Human Hero: This original sculpture is inspired by the 1986 comic-book masterpiece "The Dark Knight Returns." This gritty adventure helped to establish the more realistic and complex portrayal of the Dark Knight in modern media. Limited run of 700 Keepsake Ornaments ($25 each).
Cylon Centurion: In the classic 1978 TV series "Battlestar Galactica™", Cylon Centurions relentlessly pursue the "ragtag" survivors of the twelve colonies of humanity across the reaches of space with a single goal: destroy all humanoids. This gold-painted variant of last year's popular ornament is Hallmark's first Comic-Con exclusive to feature sound. Limited run of 600 Keepsake Ornaments ($25 each).
"We had a warm and welcoming reception last year and are excited to return to New York Comic Con," said Beth Dorr, associate product manager for Keepsake Ornaments. "The convention gives us a great opportunity to meet and interact with more of our most passionate fans who can't travel to the West Coast and reward them with exclusive opportunities and sneak peeks."
Hallmark has produced exclusive Keepsake Ornaments in recent years for events including Comic-Con International, Star Wars Celebration VI, the National Barbie® Doll Collectors Convention and Disney's D23 Expo.
Additional activities in Hallmark's booth #1956 include:

Keepsake Artist Nello Williams, the designer of the "Cylon Centurion" ornament, will be signing autographs on Oct. 12 from 1-3 p.m. and on Oct. 13 from Noon-2 p.m..
"Santa" Vader will be making appearances for photo opportunities
A series of collectible buttons will be available for fan pick-up. The series features five designs, with a limited quantity of one design given away each day of Comic-Con.
About Hallmark Cards, Inc.
Hallmark makes the world a more caring place by helping people express what's in their hearts and spend time together — a privilege few other companies in the world enjoy. Hallmark greeting cards and other products are found in more than 40,000 retail outlets in the U.S., including the network of flagship Hallmark Gold Crown® stores. The brand also reaches people online at Hallmark.com and on television through Hallmark Hall of Fame original movies and cable's top-rated Hallmark Channel. Worldwide, Hallmark offers products in more than 30 languages available in 100 countries. This privately held company is based in Kansas City, Mo., and is led by the third generation of the founding Hall family. Visit http://corporate.hallmark.com for more details.