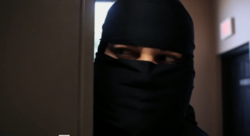 The video, filmed on location in the Position Logic offices, is a light-hearted look at ninjas backed by a more serious message
Naples, Florida (PRWEB) October 05, 2012
How do ninjas go to work? What would happen if everyone in a company was as stealthy and skilled as the next? A new video from GPS tracking platform provider Position Logic tackles those very issues.
The video, filmed on location in the Position Logic offices, is a light-hearted look at ninjas backed by a more serious message: At Position Logic, they're all ninjas at what they do, skilled, trained and dedicated to the job at hand – with the ironic twist, of course, that the ninjas in the video are not at all stealthy.
The video was conceived following a comment by Position Logic CEO Felix Lluberes that all of his employees were ninjas. The video concept that followed, produced by Ft. Myers marketing agency ThreeTwelve Creative, played on the fact that although the Position Logic offices were filled with ninjas, the quality and commitment that Position Logic brings to its clients around the world is really no secret at all.
"We like to have fun at Position Logic," said Lluberes. "It's one of the things that makes leading this company so special. But we also had a very serious purpose in this video: To highlight how dedicated we all are to our job, which is to make sure that our clients always have the best GPS tracking system and tools possible."
As for any possible sequels to the Ninja video, Lluberes was tight-lipped: "I'd prefer to let our platform and our customer service do the talking," he smiled. "It's all anyone really needs to know." But then again, there's always more Position Logic video to see.
About Position Logic
Position Logic, LLC, an Inc. 500 company, is a leading business-to-business, location-based services provider committed to supporting businesses worldwide with integrated and applied business intelligence, precision technology, and customized services and solutions. Position Logic has offices in Florida and the Dominican Republic as well as clients in over 50 countries spread over the continents of North America, South America, Europe, and Africa and in the Middle East region. Position Logic provides GPS tracking software and hardware solutions, service and support to several key industries, including fleet management, Automatic Vehicle Location (AVL), logistics, and security monitoring and crisis management.