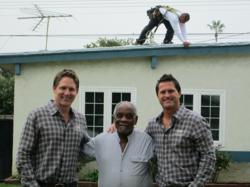 "Pops has been like a father to me. I am going to do whatever it takes to help him live out the golden years of his life in the house he's called home for over 50 years."
Irvine, CA (PRWEB) October 04, 2012
Charles Antis, owner of Antis Roofing & Waterproofing, received a phone call from one of Pop's concerned neighbors asking for help to replace an old leaking roof on the home that Mr. Williams had lived in for over half a century. Antis sent out his workers to tarp the home for protection against a summer storm then immediately reached out to his business and philanthropist connections to organize a team to help save Pop's house. The big day comes Saturday, October 20, from 9:00am to 1:00pm when Antis Roofing employees, concerned neighbor Linda Mansfield and a contingency of giving community partners join together to install a brand new roof for Leroy "Pops" Williams.
Linda Mansfield started the chain reaction of kindness earlier by rallying friends and neighbors to assist in rebuilding interior damage in side Pop's home caused by previous rainstorms. She also reached out to Dick Payne of Habitat for Humanity- Orange County, who donated leftover shingles. It was Dick, who connected her to Habitat for Humanity OC Board Member, Charles Antis - President of Southern California roofing company, Antis Roofing & Waterproofing. Charles met with Leroy and set the date of October 20 to complete the project with entirely donated new materials and labor.
Linda Mansfield is quick to point out that while Pops is in need of help he is well deserving of some assistance. According to Mansfield, "Pop's is all about giving. His greatest contributions were to his neighborhood, where he was always happy to lend a hand. Whether it was driving an elderly member to his local church, running errands or doing some gold old fashioned physical labor – Pop's would do it with a smile." Mansfield goes on to say, "Pops has been like a father to me. I am going to do whatever it takes to help him live out the golden years of his life in the house he's called home for over 50 years."
Neighbors weren't the only ones to take notice of Pops' generosity. Pops has given regularly to organizations such as Children's Hospital, American Red Cross, The Veteran's Association, and UNCF. Regional Communications Manager at American Red Cross-OC, Daphne Hart stated, "Mr. Williams has long been a supporter of our organization and it's wonderful to see the community come together to support someone who truly believes in helping others."
Many other local businesses are joining Antis Roofing and the American Red Cross. Charles Antis stated, "The spirit of social responsibility is strong within our work community. Malarkey and Habitat for Humanity OC have donated the roofing shingles, D & D Demolition donated the demo work, OC Metals donated all of the flashing, ALL Materials donated the waterproofing, nails and caulking, and Speedpro Imaging is creating banners to thank all of the sponsors." Antis went on to say, "I got goose bumps when the National headquarters of American Red Cross told me about all of Pop's donations over the years. It is awesome for all of our partners to show up and give a little back to Pops."
About Leroy Pops Williams
Williams is a 78 year-old former Master Sergeant with the United States Marines where he served proudly, as he often says "For 21 years, 6 months and 14 days." Mansfield said that, "Pops is a sweet and gentle man with a deep understanding of compassion and gratitude." If you would like to be involved with the Pops Williams Project please contact Charles Antis at Charles@antisroofing.com or VP of Marketing, Dean Morrison at Dean(at)antisroofing(dot)com
For more information:
http://www.facebook.com/antisroofing
http://www.antisroofing.com
About Antis Roofing & Waterproofing:
Antis Roofing and Waterproofing, Inc. is the leading roofing services contractor for Homeowners Associations within Orange, Los Angeles, and San Bernardino Counties. President Charles Antis also serves as a member of the Orange County Habitat for Humanity Board of Directors.
Media Contact:
Charles Antis
(949) 461-9222/ofc, (949) 350-2399/cell
charles(at)antisroofing(dot)com
http://www.antisroofing.com
About Habitat for Humanity of Orange County
Habitat for Humanity of Orange County is a non-profit organization based in Santa Ana, California. The organization's mission is to transform lives and communities by helping families in need purchase or renovate their own homes. Their vision is "A world where everyone has a decent place to live."
Media Contact:
Joan Ziegler,
(714) 434‐6200 ext. 222/ofc, (714) 401‐6067/cell,
joan(at)habitatoc(dot)org
mediarelations(at)habitatoc(dot)org
About The American Red Cross
The American Red Cross is a humanitarian organization, led by volunteers, that provides relief to victims of disasters and helps people prevent, prepare for, and respond to emergencies. It does this through services that are consistent with its Congressional Charter and the principles of the International Red Cross Movement.
Media Contact:
Daphne Hart,
(714) 481-5375
Daphne(dot)Hart(at)redcross(dot)org
http://www.redcross.org/ca/orange-county