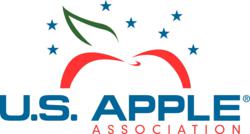 Vienna, VA (PRWEB) October 05, 2012
With the 2012 apple harvest in full swing and fall apple recipes back in season, the U.S. apple industry is challenging apple lovers to think outside the crust.
"Apple pie is a time-honored treat, but an expanding spectrum of apple varieties appearing on the market and the movement toward simple food pairings call for recipe reinvention," says Nancy Foster, President & CEO of the U.S. Apple Association. "With more than 2,500 apple varieties grown in America, there's an apple – and an apple pairing – to please every palate."
Even far from any orchard, the average shopper has access to an incredible diversity of apple varieties – something rare on a mass scale, adds Amy Traverso, author of The Apple Lover's Cookbook (Norton, 2011). "From Ambrosia to Zabergau Reinette, apples are the only fruit to have earned such specific varietal interest. What's more, apples add wonderful sweetness, tartness, flavor, crunch, and nutrition to all kinds of dishes and snacks, and different varieties each have their own unique flavors. Some are spicy, some taste nutty or citrusy, some taste like berries. Once you begin to explore the apple spectrum, the pairing possibilities are truly endless."
Foster says October is the perfect time to experiment with apples. The U.S. Apple Association has teamed up with Marzetti®, Cabot Creamery Cooperative™ and Peanut Butter & Co.®, hosting the "Appletizing Apple Pairing" recipe contest in search of unique combinations featuring products classically paired with apples, from caramel and peanut butter to cheese and yogurt.
With a little originality, basic ingredients can produce unexpected combinations, Traverso says. "A sweet Fuji slice topped with goat cheese, a drizzle of caramel and sprinkle of sea salt makes for a grown-up version of the caramel apple. Core an apple, slice crosswise, then top the rings with peanut butter and crumbled bacon for an addictive snack. Or dip chunks of Granny Smith in classic cheddar cheese fondue for an easy pairing that's sure to be a hit at your next party."
Throughout October, fans will be challenged to create original pairings for specific occasions: parties, dates and celebrations; on the go; snacking; and me time. One winner from each category will receive an assortment of gift boxes from Marzetti®, Cabot Creamery Cooperative™ and Peanut Butter & Co.®, and one of the four also will receive the grand prize, a $500 Visa gift card.
To enter, visit U.S. Apple Association on Facebook and click on the Recipe Contest tab. Submit recipe details and a photo by midnight EST October 31, 2012, for a chance to win. For contest categories and official rules, visit http://www.facebook.com/USAppleAssociation. For recipe inspiration, subscribe to USApple's Apple of the Month Club e-newsletter and follow USApple on Facebook and Twitter.
# # #
About U.S. Apple Association
The U.S. Apple Association (USApple) is the national trade association representing all segments of the apple industry. Members include 40 state and regional apple associations representing the 7,500 apple growers throughout the country, as well as more than 400 individual firms involved in the apple business. USApple's mission is to provide the means for all segments of the U.S. apple industry to join in appropriate collective efforts to profitably produce and market apples and apple products.