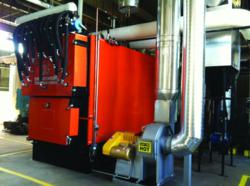 Paxton, MA (PRWEB) October 04, 2012
Anna Maria College announces it will be starting up its new wood pellet boiler for the first full heating season this fall. This new wood pellet-fired boiler will provide heat for over 341,000 sq ft of classrooms, athletic facilities, offices and student housing. This boiler is projected to displace over 100,000 gallons of #2 heating oil and 1100 tons of CO2 emissions annually, with renewable and locally produced wood pellet fuel. The project was completed by Biomass Commodities Corporation out of Williamstown, MA.
An Open House on October 19, 2012 will offer an opportunity for the public to view the wood pellet boiler, which is the largest of its kind installed in Massachusetts. The Open House runs from 10 a.m.-2 p.m. with a project overview at 1p.m. Charlie Agnew from Biomass Commodities and Mark Collette, Director of Facilities and Engineering at Anna Maria College, will conduct the overview which will feature discussion of the design and special features of the new boiler, as well as the general maintenance and operations done by AMC staff. To register for the open house, please contact Charlie Agnew at 207-576-3490 or by email, charlie(at)biomasscommodities(dot)com.
About Biomass Commodities Corporation
Biomass Commodities (BCC) is a renewable energy company that offers a complete solution for wood pellet heating. BCC is a value added distributor and installer of modern wood pellet fired heating systems that provide simple, safe and efficient building heat. BCC provides pellet boiler installations and services throughout the Northeastern United States. Common applications are in centralized heating plants, buildings 10,000 sq ft or more including schools, manufacturing facilities, assisted living complexes, hospitals and residences. Visit http://www.biomasscommodities.com for more information.
###
MEDIA CONTACT
Averill Cook
Biomass Commodities Corporation
753 Oblong Road
Williamstown, MA 01267
413-458-5326